Shopify is growing like crazy. So as a Shopify merchant you need to keep up with the pace. But how is that possible? Have you ever thought of all the Shopify data out there that can help you grow your business? 
Now specifically speaking, if you are here to learn about ways to find Shopify's customer list you are at the right place. 
In the following paragraphs, you will find the easiest ways to get the data you need: Shopify's customer list.
How finding Shopify's customer list can help you grow your business?
Are you looking for inspiration to elevate your site to the next level? Of course, you are. The Shopify platform has so many stores that sell all kinds of things. However, some stores succeed while others fail. It's best to be one of the successful ones. But, how do you do that?
Success or failure in eCommerce can be due to many factors. It's up to the store owner to make their store a success. Shopify provides a great foundation for businesses, but it's up to them to maintain it.
Increasing sales and attracting customers who keep coming back to you will differ from that of someone selling a different product. So, it's nice to see a variety of success stories and the way they've made their business flourish.
There are many reasons why a specific store might be successful, and what works for one may not work for another. There are no two stores alike.
What makes a Shopify store successful?
The key is to find a plan that works and observe how other Shopify customers have promoted themselves successfully.
Listed below are a few common traits of successful Shopify stores:
Customer experience above everything

Brand appeal

No unnecessary extra costs

Social proof

Accurate product descriptions and specifications

Top-notch customer service

Quicker website load speeds

Abandoned cart recovery
3 Ways to find Shopify's customer list
Now let's get into the main part of this article and explore the ways you can find every Shopify customer list you are looking for. 
Shopgram provides you with a list of Shopify customers sorted by country and category
Shopgram is a kind of specified search engine for Shopify stores. It is one place where you can have access to all the Shopify data you need, including the Shopify customer list. 
On Shopgram, you can also see stores' Alexa rank, the number of products, themes, and categories, as well as their social media and top Shopify products. 
Now how does it work? 
1. Go to https://shopgram.io/stores
2. Choose the location of your choice using the drop-down menu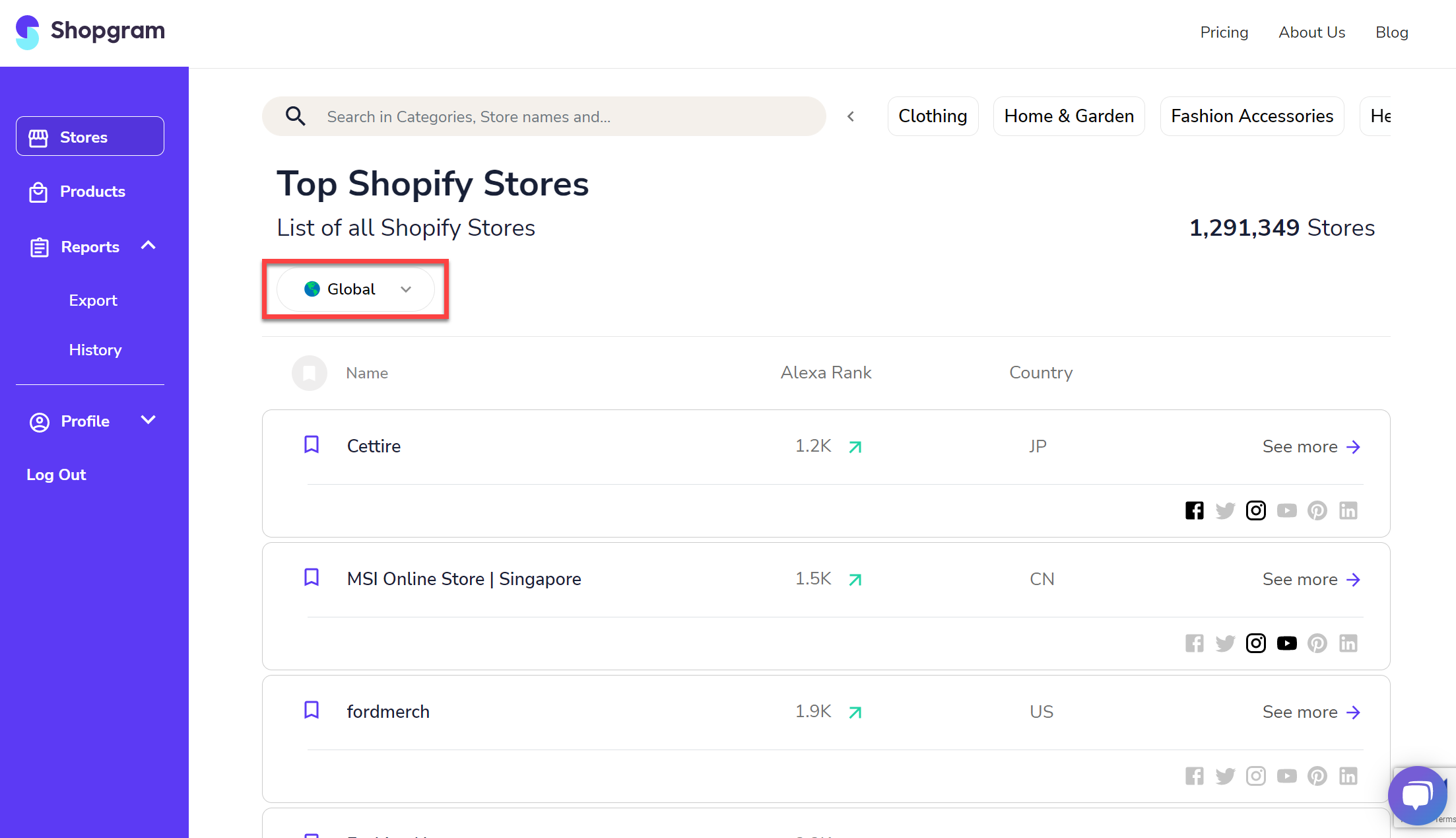 3. You can keep a report by downloading the list of stores from the Report page (But you need to get the premium plan first)
You can find Shopify's customers list by doing a simple search on Google 
Using the inurl command, you can also search inside a web address. Using this technique, you can search only for URLs that contain your search terms. This technique is most effective with Google at the moment. 
By including the URL in your search query, you are specifically telling the search engine that you want to look only at this URL. Only search results retrieved from the URL should be returned.
Page titles, metadata, and content all fall into this category.
If you open Google and enter the following text in the search field: 
inurl:https://myshopify.com  you will see all the Shopify websites in the search results.
Now if you want to search the Shopify stores in a specific country or category, simply add the country or the category you have in mind to the text. 
For example, if you are looking for Shopify stores in the UK, search this: 
inurl:https://myshopify. Com + UK
Go to myip.ms to find the list of Shopify customers
You probably have never heard of this kind of method, so we are sharing it with you:
The first step is to open

https://myip.ms

 

Then enter 23.227.38.32, which is the IP address of Shopify's official website

The third step is to click on other sites on IP in the below picture, and you can see many Shopify stores.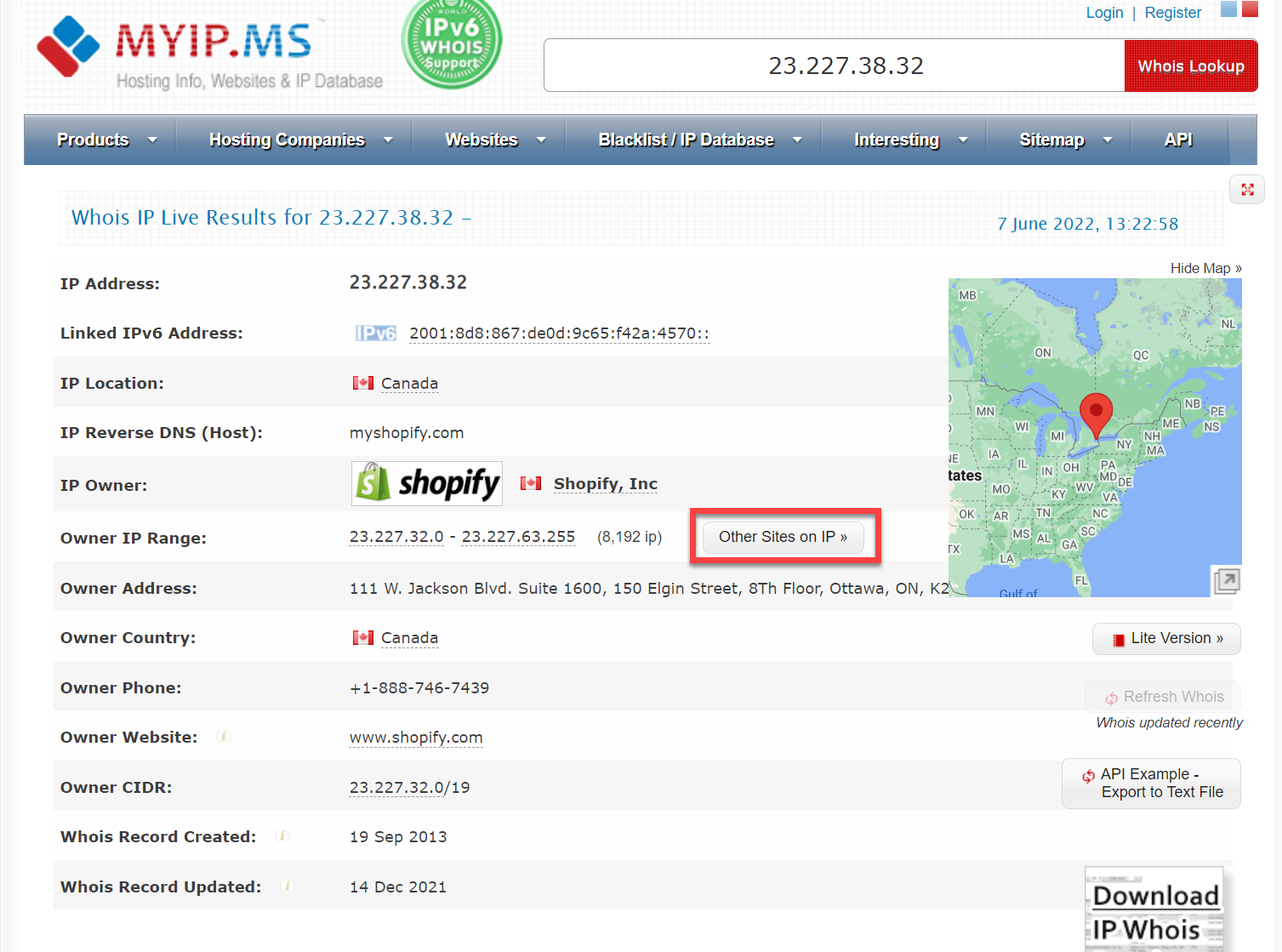 4. Click on the upper right corner to sort by website ranking. You can look at the best Shopify stores.
After reading the above, you can easily check other Shopify customers' stores, and then see where the gap between your own store and other people's store is, and what needs to be improved.
Wrap up
For opening an eCommerce store, Shopify is the best choice if you want flexibility, affordability, technical support, and a great user experience.
Now is the time to get started! Create your own Shopify store by finding inspiration from these top-grossing stores. Remember that you are just a few clicks from creating the online store you've always wanted.