Shopify is an online platform that gives online businesses the opportunity to be themselves. Millions of eCommerce websites are created on Shopify to represent a big brand or a small personal business. And Shopify is serving both well. 
If you are about to join the great community of Shopify, or you have already joined and now are looking for ways to improve your store through Shopify, here are the tips and tricks on how to find and check other Shopify stores for inspiration. 
There are stores out there that have passed the journey you are just about to start a long time ago and they are the giants of their niche now. Why don't you stand on the shoulders of giants and get ideas from their moves when you can? 
So if you don't know how to find other Shopify stores and how to check them for inspiration, don't worry. We have created an easy tutorial for you. Just keep reading. 
How to find other Shopify stores
We are about to introduce you to three easy and practical ways by which you can find other Shopify stores and check those stores to get inspiration for improving yours. You can use any of these that suits your needs better. Here we go.
1. Shopgram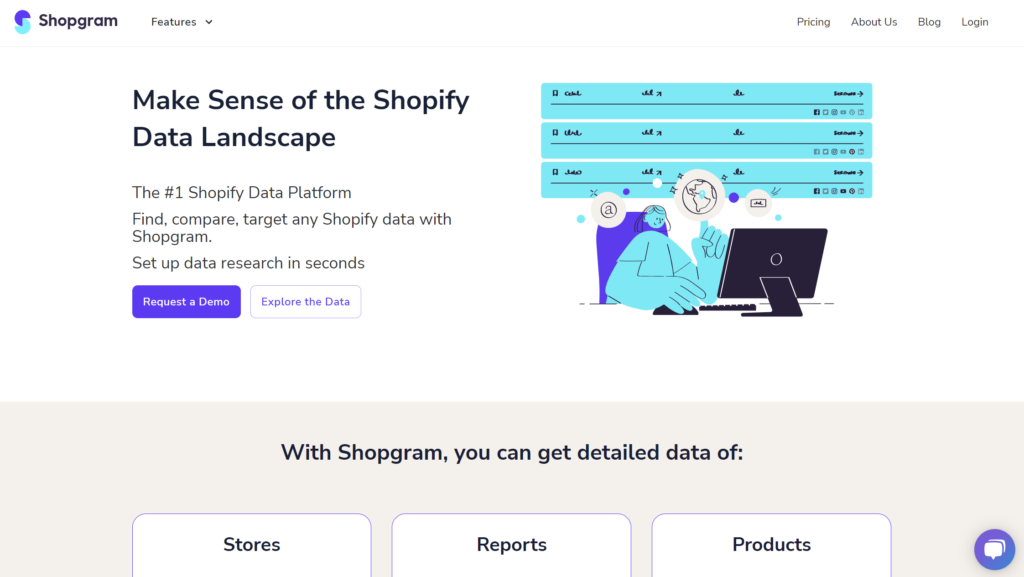 The first and probably the fastest way on this list is a Shopify data tool. Using SHopgram you can find and compare Shopify stores based on location, Alexa rank, and categories. It means that if you are looking for top Shopify stores in your niche and your country, you can get a list of them with just a few clicks. And you can do it for free!
There are several pieces of data you can get about each Shopify store, including:
Shopify store's location

Shopify store's Alexa Rank

Number of Products on the store's website

The Shopify theme used on the store's website

Store's categories and distribution

Link to the Shopify store's Social Media accounts

And a list of similar Shopify stores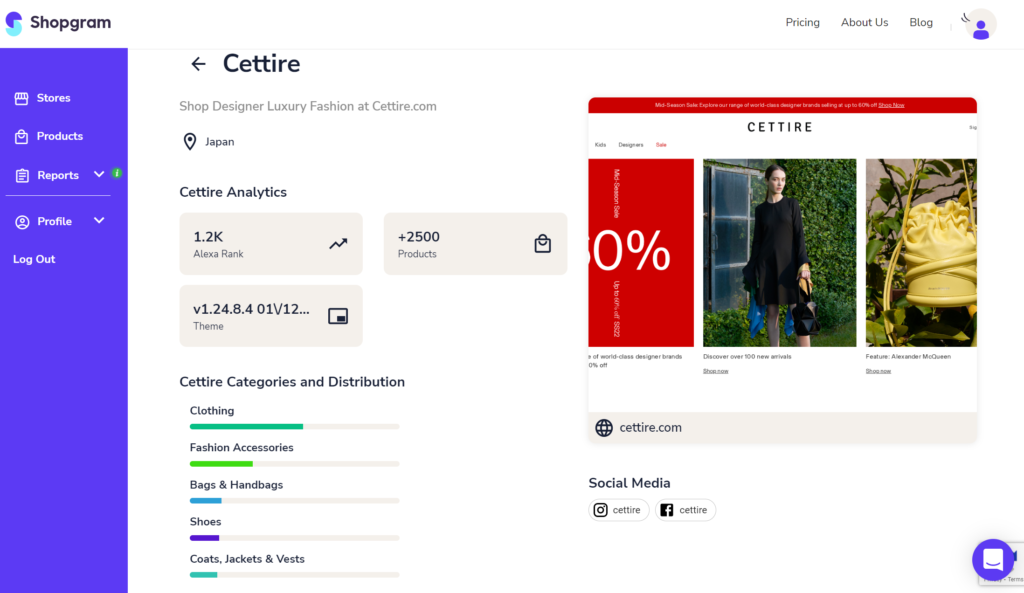 However, not all these features are for free. There are some premium features that you need to pay for. For example, if you want to have access to the link of Social Media accounts you need to take a look at Shopgram's pricing page.
Another advantage of having a premium account on Shopgram is that you can export a report and download the list of Shopify stores that was created based on your needs.
2. Manual Search
In the case that you are only searching for a few Shopify stores and are not looking for a large number, a manual search will be a simple and effective method for you. There are other methods on this list that could be used if the number of stores you are trying to search for is too large to be crawled manually. 
What is the manual search process?
Suppose you're looking for Shopify stores in Canada that sell Shoes. Type this on Google's search bar: https://myshopify. com + Shoes + Canada
If you want to check the jewelry shops in France you can simply change the keywords to Jewelry and France.
3. Forums
To begin with, let's clarify what we mean when we talk about Shopify forums.
According to the Shopify help center, the Shopify Community provides discussion forums for merchants, partners, and experts, as well as those looking to learn more about Shopify. You can take part in business conversations, receive support for technical questions from other community members, and learn more about Shopify in general.
The community has 900000 members and more than 1 million posts covering every Shopify topic imaginable like E-commerce, marketing, shipping, and online advertising.
So before you ask any questions, make sure to use the Shopify forum's search function. There is a chance that somebody has asked the same question before you.
How to Analyze the Shopify stores you find
Now that you have found the Shopify stores you were looking for, the next step is to analyze them and extract inspiration from what they are doing good. 
Here's how:
Based on traffic
Well, if you want to check and learn about the popularity of a Shopify store, the first thing you'll probably go for is to check the traffic of their website.
There are several ways to do this:
Checking website traffic using Shopgram
If you used Shopgram to get a list of Shopify stores in your niche, that's where you can analyze the traffic of those websites as well. 
Shopgram lists stores based on their Alexa Ranks. Alexa rank is an Internet company owned by Amazon that ranks the popularity of websites worldwide.
The Alexa service uses web traffic data to make an ordered list of the most popular websites on the Internet. A site's Alexa rank shows how popular it is in comparison to all other sites.
So the website with the highest Alexa Rank on the Shopgram list you generated is the most popular one.
Checking website traffic using Ahrefs
Using Ahrefs you can check the traffic of any domain or URL, including your competitors. Go to Ahrefs and from the toolbar click on Site Explorer then enter the domain of the website you want to check its traffic. Ahrefs gives you the option of seeing a website's organic traffic as well as paid traffic.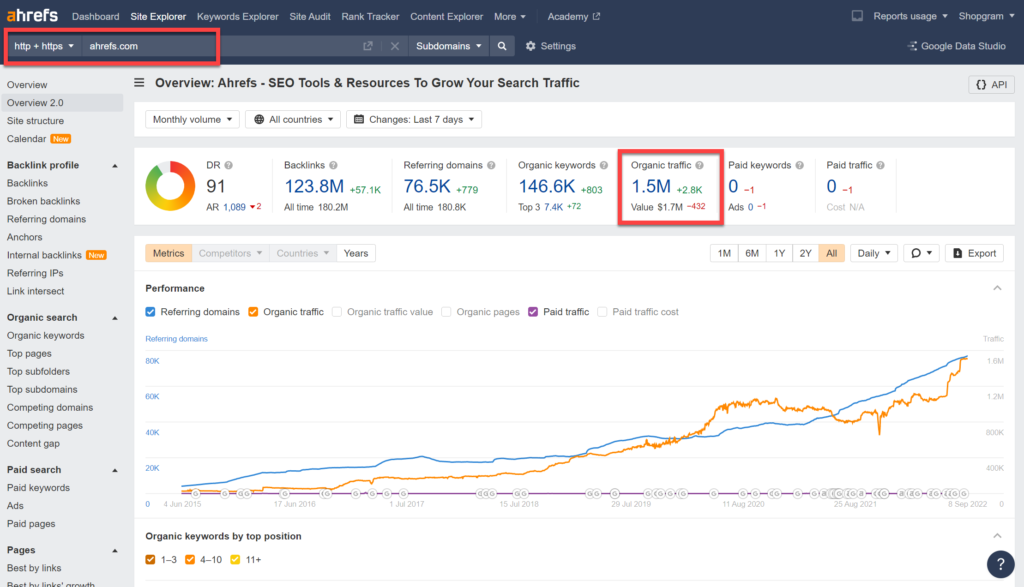 Based on products
Another way you want to analyze those top Shopify stores is by checking the products they are selling on their Shopify store. On Shopgram you can see the number of products each store is selling and the categories of products in those stores. Besides that, you can look for the most popular products of any category from Shopgram's product page. 
Based on themes
While you are checking different Shopify stores, you may find a store's look lovely and suitable for your future store. 
Detecting Shopify themes is easy on Shopgram. you can see any store's Shopify theme name on the store's page. But if the store you are checking is not on Shopgram, here's the manual way to find any store's theme:
Each Shopify theme has a unique ID. It's a short code that you can use to find the theme on the Shopify Theme Store, where you can see more details and decide whether to download it for your own store.
Visit the Shopify store you'd like to inspect.

To open a new tab with the source code, press Control + U or right-click on the page to open up the menu and click "View Page Source".

Search the code by pressing Control + F and look for "Shopify.theme" or "theme_store_id"
Wrap Up
Keep in mind that you don't look for other Shopify stores to imitate everything they do. You just need to find the best methods they use for their stores that may work for you as well, combine them with your needs and creativity, and use them for your Shopify store. Good luck with being inspired!