A simple fact we all know is that Shopify is growing relentlessly. Right now, when you are reading this article, about 2 Million merchants are using Shopify to sell their products and services. 
These Shopify stores sell a variety of products from electronics to pet supplies. The unbeatable fashion industry however contains the most Shopify stores. Last time we checked, almost 75.5k Shopify stores were selling clothing. With the great obsession people have with their style these days, such a big number is not a surprise.
Now as Shopify is getting bigger, the opportunity for Shopify app developers to offer new problem-solving apps to the market gets bigger as well. Since 2019, the number of Shopify apps has almost doubled, and there are now about 7000 apps in the Shopify app store, each offering store owners something they need.
As a Shopify clothing store owner, you are probably looking for the best Shopify apps, the ones that are going to help you boost your business. But maybe you don't have a clear idea about what you need. And even if you figure out your store's needs by yourself, it won't be an easy process to recognize the best apps for a clothing store. 
So if you need to be guided, you're at the right place! Because we studied some famous brands' websites for you to see what apps they were using and found the following apps:
1. ReStock Alerts
One thing that is going to happen on your clothing store website a lot is getting out of stock of the products. And unfortunately, it normally happens with your most popular products, the ones your customers crave for. Since such a situation can lead to losing so many potential customers, you need to think of a solution already. 
A "notify me" button is all it takes to save the lost customers. But this is not an option that Shopify gives you by default. So you need to look for a Shopify app. If you're looking for a recommendation, ours would be ReStock Alerts. 
Using Restock Alerts you can send back-in-stock emails and push notifications to those customers of yours who have subscribed to receive them as soon as the product is restocked. 
The button is fully customizable with your shop's theme and will be on all your sold-out product pages just the way you want it to be. Besides this, you can see a report of your high-demand products, sent messages and notified users all in one.
One of the famous brands that are using this app right now is Proper.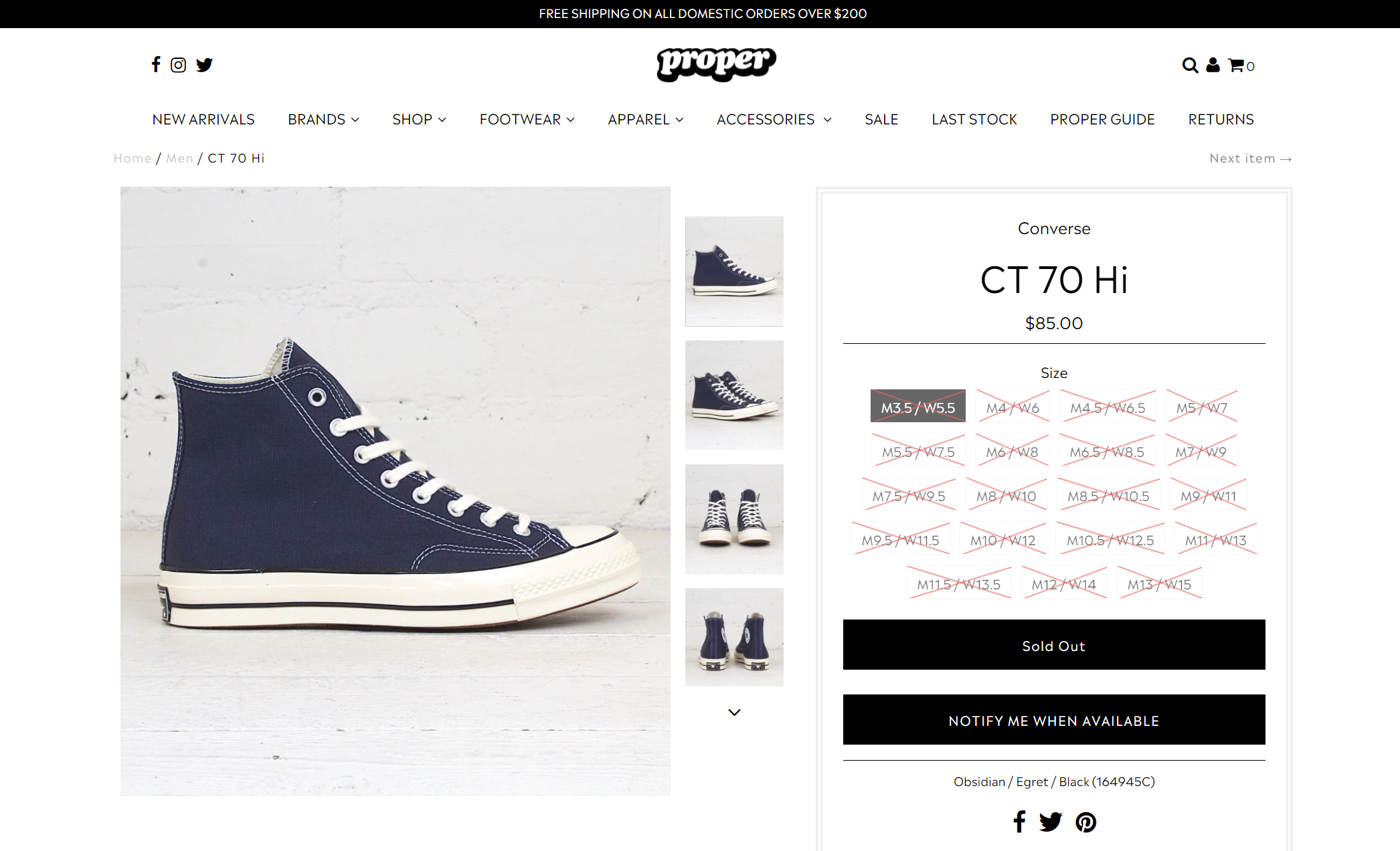 As you see in the picture, there is a "notify me when available" button on this sold-out product page of Proper. This small button leads their customers to wait for them to restock the item instead of going to their competitors who sell the same product.
2. RightCopy
Another matter that the owners of clothing stores and probably all other kinds of stores struggle with all the time is writing descriptions for all their products. It can be boring and time-consuming for you, as a Shopify merchant to put that effort into writing product descriptions. At the same time, product description is what seduces shoppers into purchasing. So you don't want to lose scores on that.
Here's where an app like RightCopy will come to your aid. How? 
The app is an advanced AI model that has learned to generate quality descriptions from product descriptions of thousands of top Shopify stores to make sure that you'll have high-quality content on your Shopify store.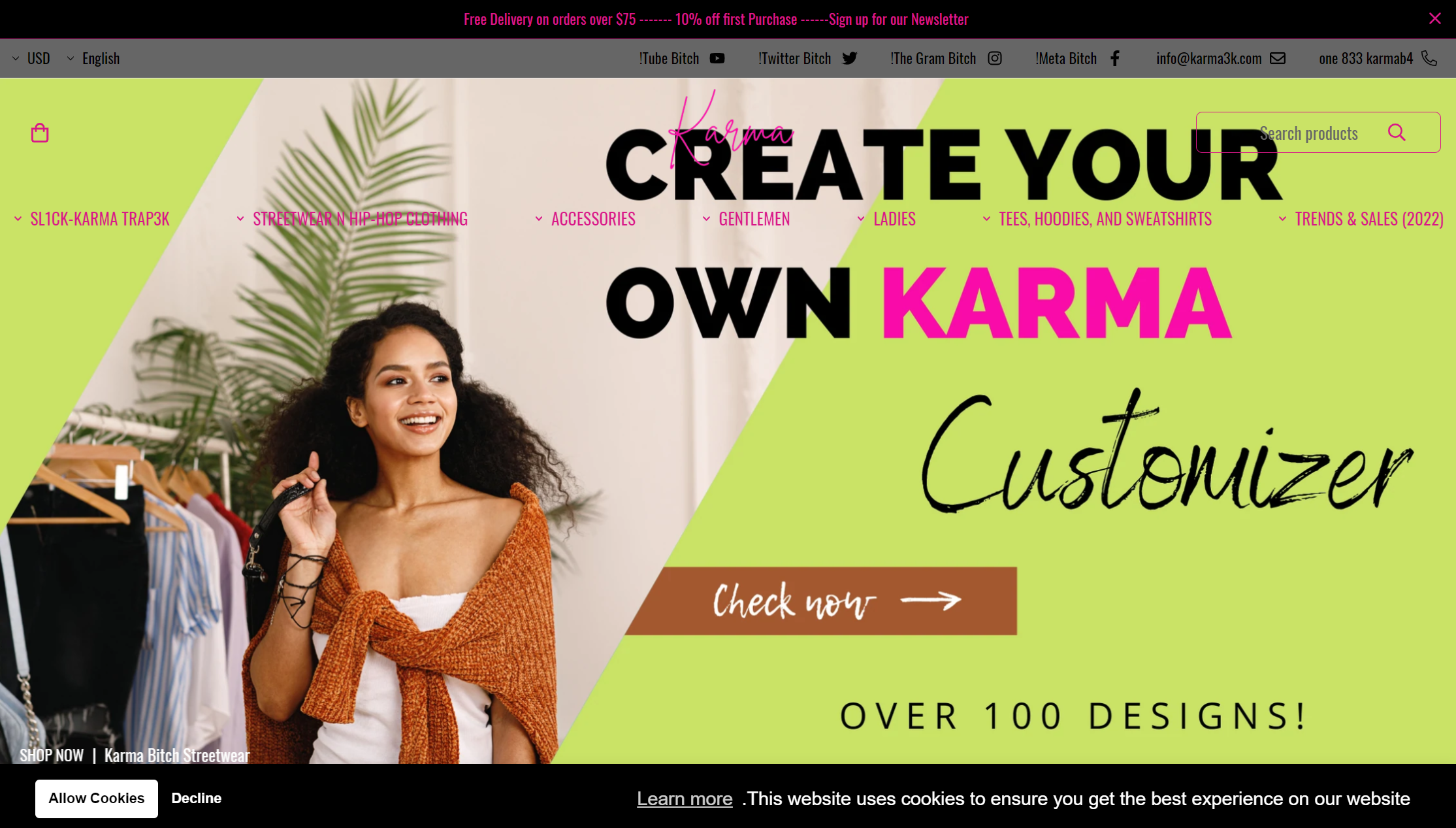 Karma is one of the Shopify clothing stores that is using RightCopy to generate their product descriptions. It is an excellent tool for stores that have a lot of products.
3. Create Social Proof From UGC
You can't imagine how powerful the effect of social proof can be on the customers! Remember that people get what their eyes desire. And showing them how other people also love what they want to buy helps them trust you. 
That's why this app is a great one for your Shopify clothing store. Especially if you are active on Instagram. Using Socialphotos you can show your customers what your clothes look like on other people. This app allows people who bought your clothes to share them on social media channels such as Instagram and Facebook.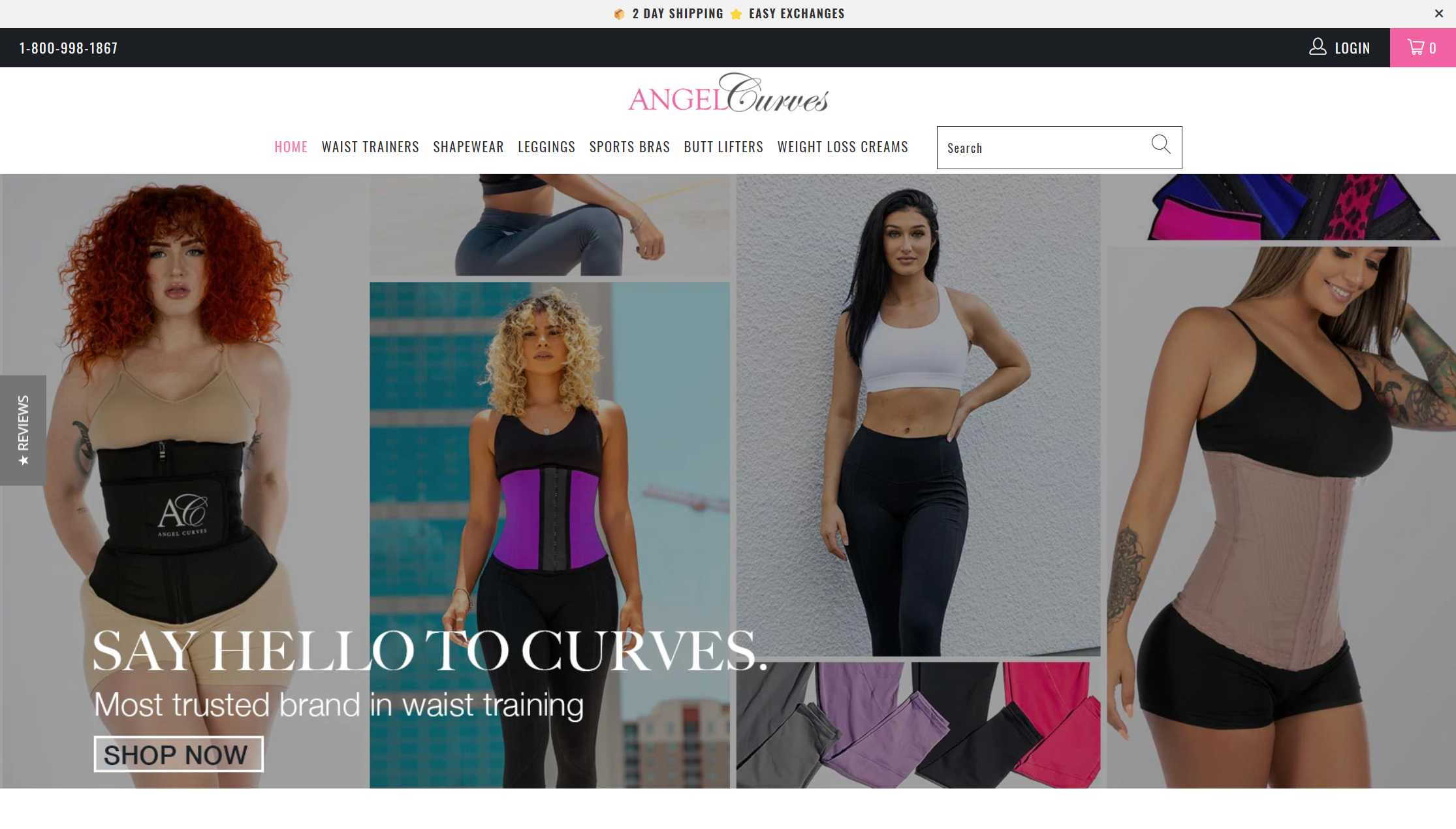 AngelCurves is one of the Shopify stores that is using this app currently and it seems like this store is pleased with the outcome. Maybe you want to take a look as well?
4. Smile: Rewards & Loyalty
Do you know what is more important than attracting new customers? Keeping the old ones. To do so you can use Smile.io, an app that will give your customers a reason to come back. 
By using Smile.io, you can improve loyalty by giving away points, referring people, and offering VIP benefits. Your loyalty program can easily be set up, and if things need to be adjusted you can easily edit and manage them once they're in place.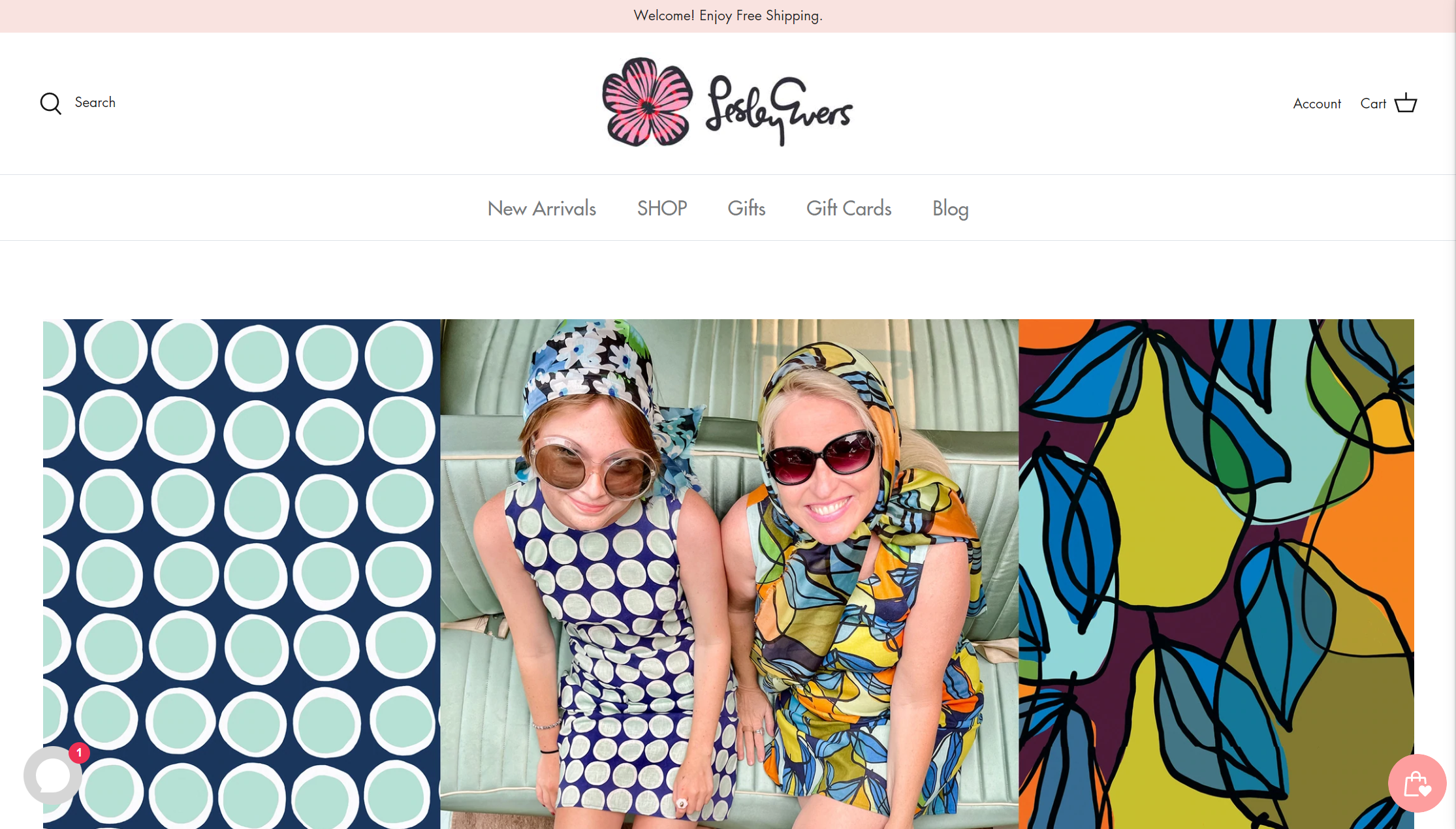 If you want to take a look at a sample clothing store that is using this app and see how it works for yourself, here is Lesleyevers. 
5. Shop The Look Related Products
Do you want to sell more items to one customer? Sell smart! It is so common for a shopper to find the whole package in a product photo lovely. So if you are selling a skirt, styling it with a cute top which is also available on your Shopify store is a great way to advertise the top. 
To make this happen in your clothing store, Shop The look is the app we recommend. In this cross-selling app, shoppers can find other items that go well with the clothes they're about to purchase.
The app enables customers to add to their shopping cart any item the model is wearing in a product picture without having to scroll through a lot of product pages.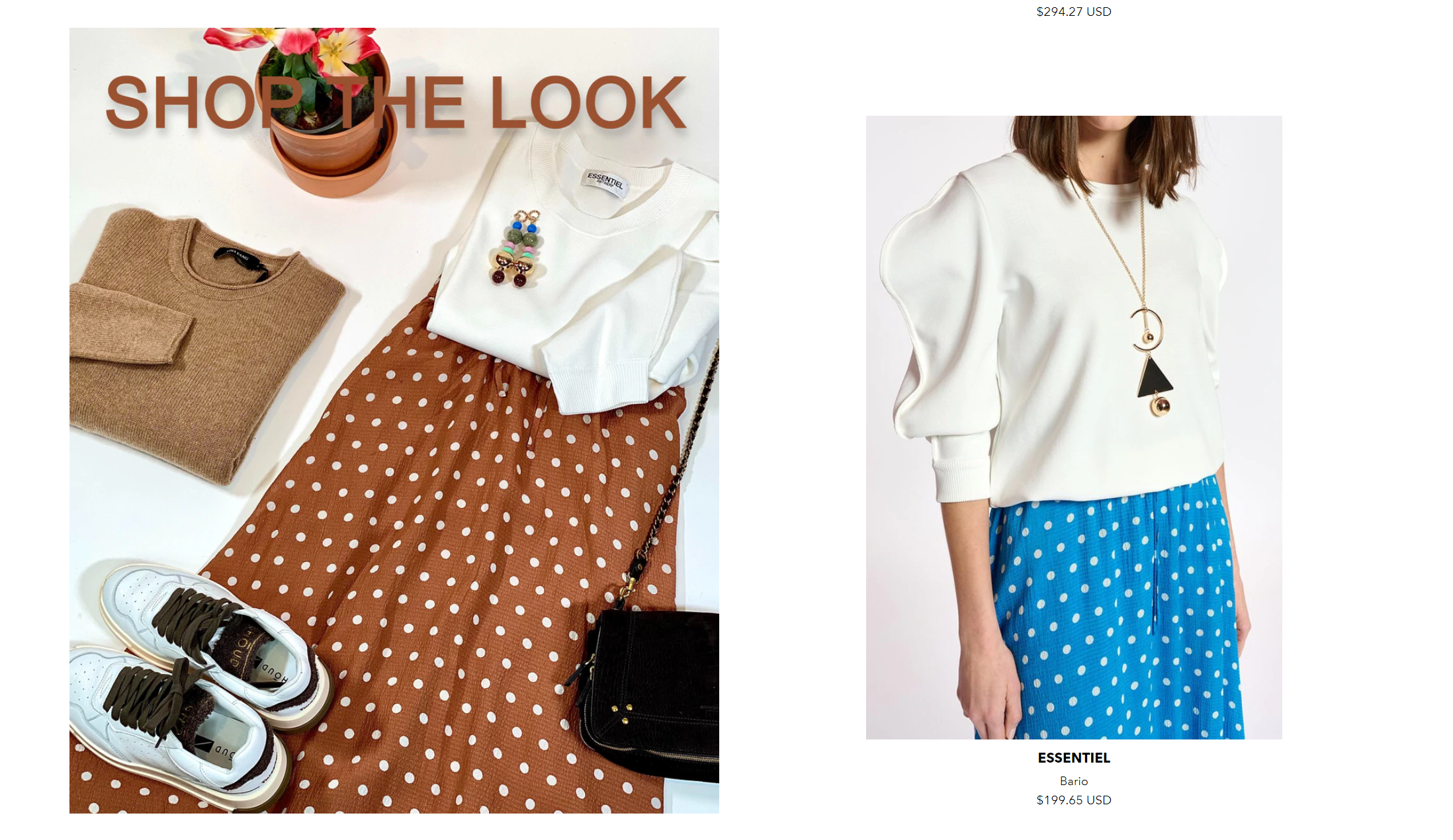 As you can see here, Sara Clausin, a Shopify clothing store that is using this app currently, encourages customers to buy a whole look.
6. Oberlo ‑ Dropshipping App
Stocking inventory is always a struggle no matter you are a small business or a big one and here we introduce an app that can end this struggle.
Shopify's Oberlo app is the most popular dropshipping app by far.  Using this app, you can not only find clothing products to sell in your store but you can also use it to eliminate the holding, stocking, and shipping of any inventory.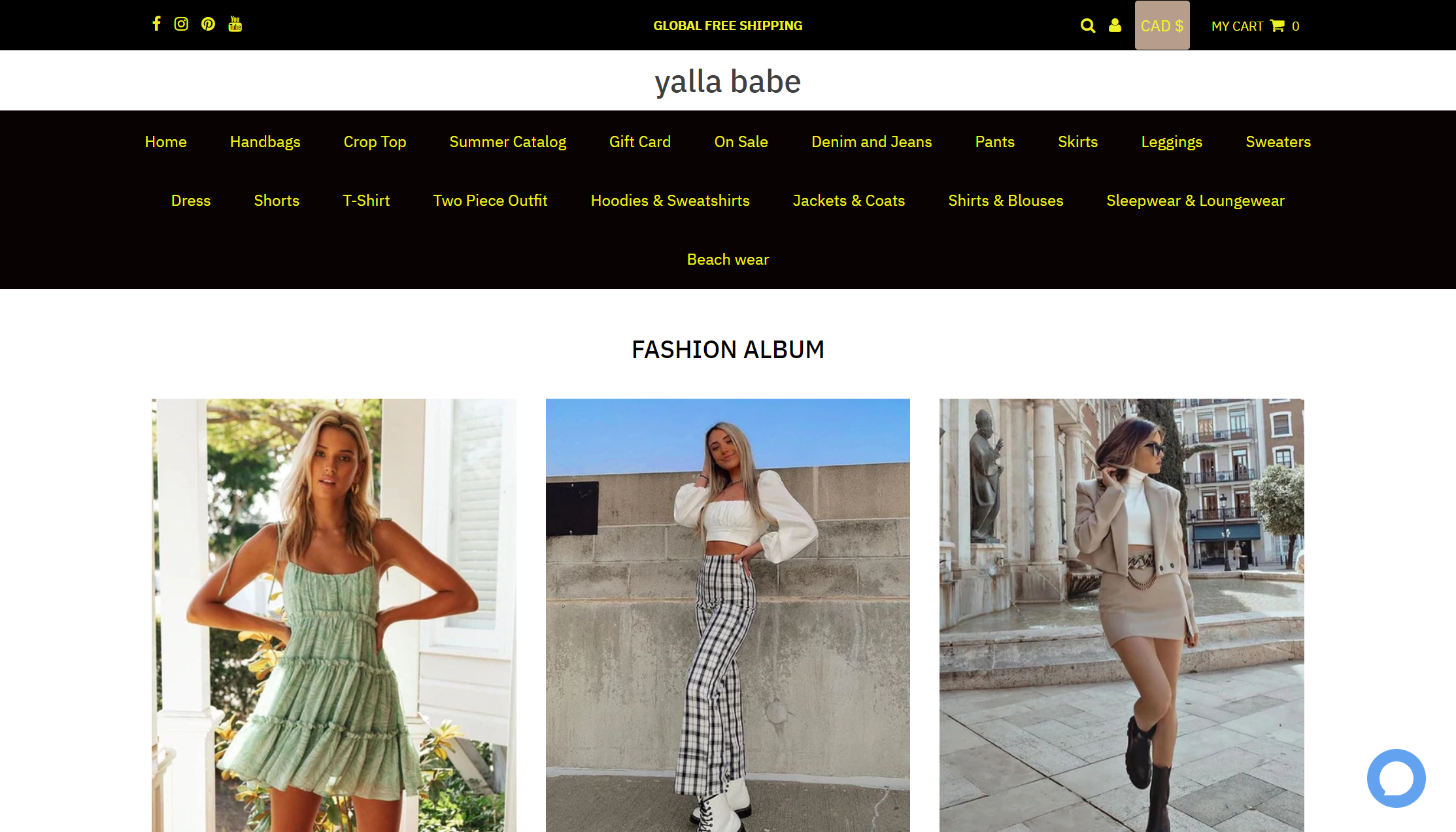 Now Yalla Babe is a good example of a successful Shopify fashion store that is using Oberlo as their dropshipping tool.
7. Pinterest
The popular social media channel Pinterest, which has over 300 million users, is most likely already familiar to you. This app allows you to connect your Pinterest account with your Shopify store and quickly publish product pins to reach a broader audience. Essentially, you have another way to reach out to new customers and get discovered by them.
As a bonus, Pinterest offers a $100 ad credit if you join the Pinterest Shopify app and run your first ad.
The last but indeed not the least store we are going to show you here is Szuastore. This store is using the famous Pinterest Shopify app and fashion aesthetics to promote itself.
Finally, if you have a favorite Shopify app for your clothing store that is not mentioned in this article, go ahead and share it with us in the comments. But please do not advertise your own app.