Starting an eCommerce has become easier than ever, but few are actually making a good profit. Success comes down to many things, but one thing almost everyone agrees on is to know your products and know your competitors.
But how? We started asking around ways most successful eCommerce merchants do it.
Product research is used to validate a product concept and determine whether it will be successful. It's a step in the product development process that helps you figure out what customers want and whether your idea will sell. As a result, your product's return on investment will be higher.
So what does work when it comes to eCommerce Product Research? What tools and strategies are professionals in eCommerce are using to get results?
To find out, we surveyed 41 folks who are working in the eCommerce section to get their thoughts on the strategies, plans, and thoughts on Product Research.
This is gonna be a long post, so if you're in a rush here's a juice of the survey we did in Shopgram:
TL;DR
More than 58% of the experts use Shopify as their main platform
67% of the eCommerce store owners own their own shop compared to 33% that were marketers/agencies
Almost all of the eCommerce owners (96%) value competitor analysis
The most important thing to know about their competitors is to know which products they sell
The most important factor in choosing a product to sell is the quality of the product + Reviews
Our Participants
Before going into the eCommerce product research results, here's a quick intro to who were our participants: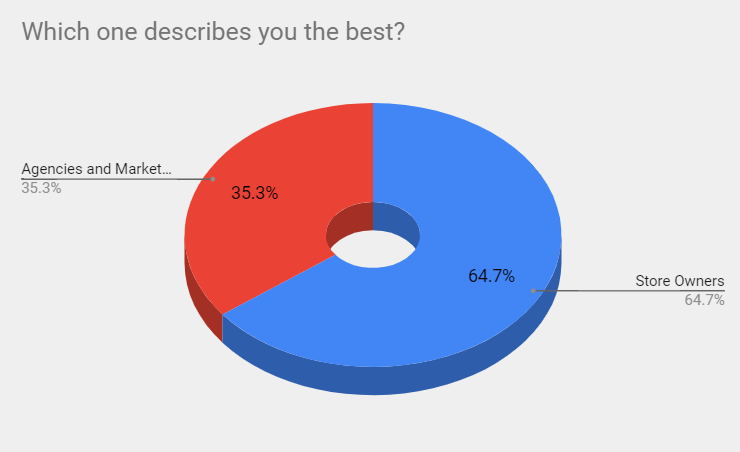 65% of our participants described themselves as store owners and 47% said they are marketers or consultants to store owners. Note that some of the participants do both.
So 65% of the eCommerce store owners own their shop compared to the rest that is marketers or agencies.
Want to know some of them? Hang on till the end to meet them!
Our study
In the following paragraphs, you will see the questions we asked our participants and the data we gathered using their answers.
First, we asked our participants about the platform they use for running their eCommerce business. The result shows that Shopify, WordPress/Woocommerce, and Wix are the top three most popular platforms.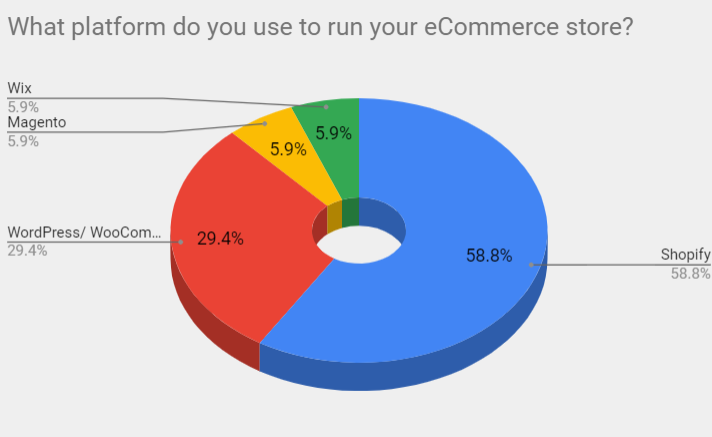 About 70% of participants said they use Shopify. Around 29% are using WordPress or Woocommerce and 11% are using Wix. 
So Shopify with 70% seems to be loved and used by our participants the most.
It was expected as in the last research we did around Shopify stores, it was completely a Shopify game by a huge margin.
The competitors
In today's great world of eCommerce, you need to know who you are competing with and how you should compete with them.
The question is: do store owners care about their competitors' business? If yes, what matters to them the most, and how much does it matter to them? 
So we asked the participants a couple of these questions and here is the data we got from what they told us.
Is it important to know your competitors?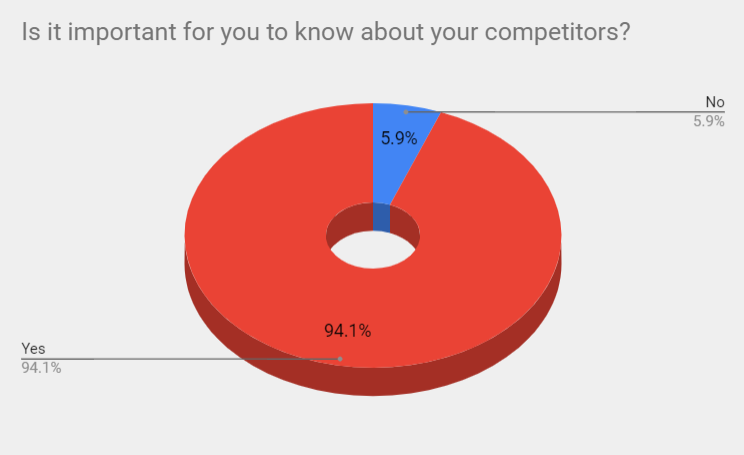 According to the data we collected, knowing the competitors and having information about what they are doing is important to 100% of store owners.
After all, everybody in the business needs to stay aware of what their rivals are doing if they want to stand out and be the best.
Which data from the competitors is valuable to know?

The data that most store owners care to know about their competitors is about the kind of products they sell. 82% of our participants said that what products their competitors are selling is the most important to them.
About 53% want to know about the revenue estimation of other stores.
35% of the business owners also care about things such as the number of followers in each social media and the apps their competitors are using. 
The theme seems to be the least important thing among all the data we asked the participants about. Only 17% of them said they care about the theme their rivals are using on their online store.
So we realized that product is probably what matters the most while store owners analyze people in their niche.
Do store owners and marketers ever search to find data about their competitors?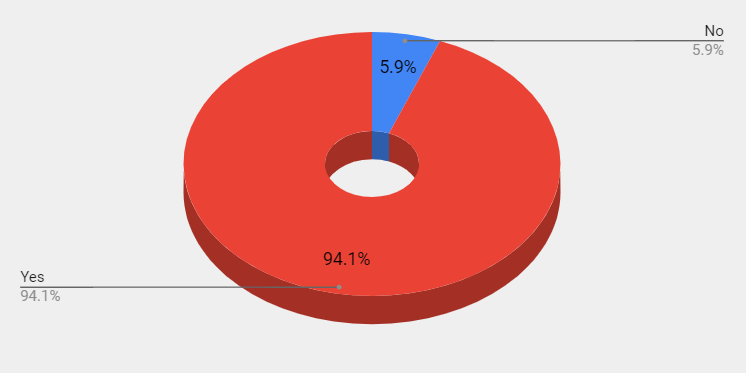 Almost everyone answered this question with yes. Because it seems impossible to run an online business without ever checking to see what other businesses are doing. If they are successful, what is the key? And if they've failed, what was the flaw?
So 95% of our participants claimed that they have searched to find data about their competitors before.
And 5% said that they have never done this; which is a surprise.
How often do store owners and marketers search for their competitors' data?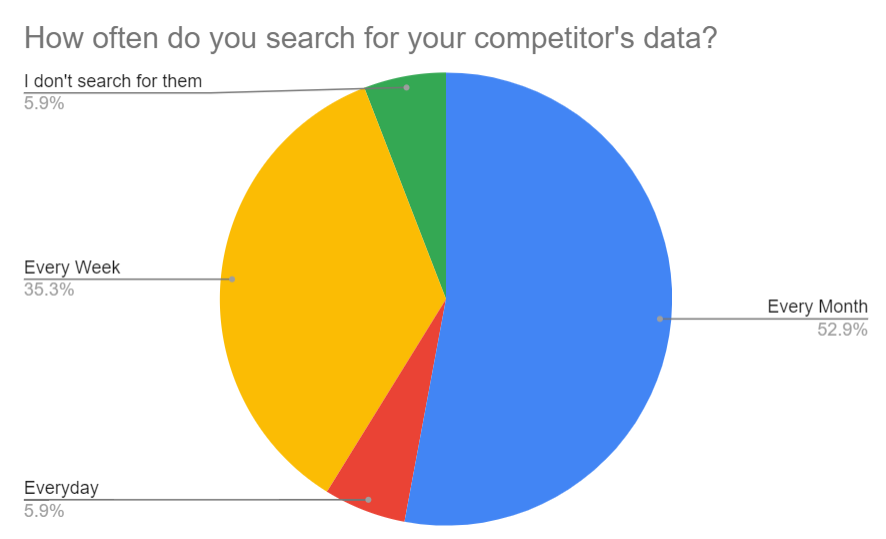 It is not like you search for your competitor's data once and then you mind your business. The fact is your competitors are changing and getting better, so should you. As a result, analyzing your competitors should be something you constantly do. 
Among those who said they search for their competitors' data, about 53% said they do this once a month.
35% of the participants claimed that they do the competitors' data analysis every week. 
And about 6% claimed that they never search for their competitors' data or they do it every day. 
Product research
We asked our participants a couple of questions to find out how they usually find the product to sell on their online store. In other words, we wanted to know about the product research strategy each business uses.
How do store owners and marketers find good products to sell?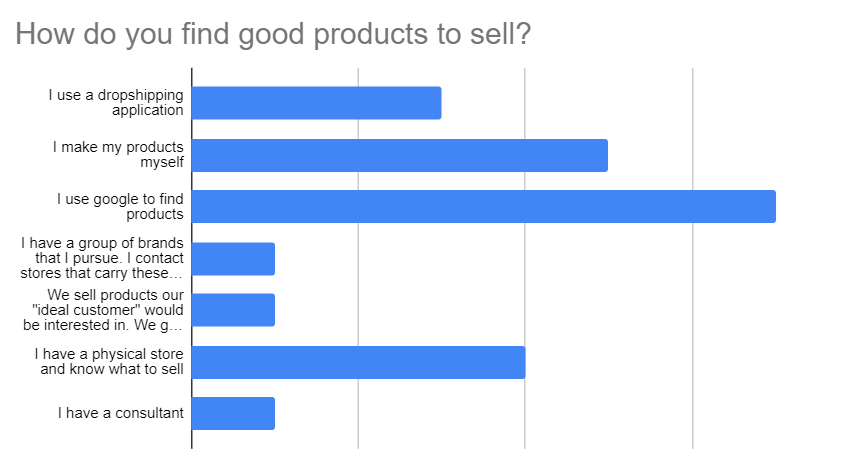 When it comes to product research, google may be the first tool you can think of to be used for finding the ideal product. The majority of our participants are on the same page with you at this. 41% of them said that they use Google to find the right product for their store.
29% said that they make their products on their own so they don't need to look for products online.
About 23% of store owners said that they own a physical store and they already know what to sell. After all, the kind and variety of products you can sell on an online store are different from a physical store. So the process of product research must be different too.
Dropshipping applications, such as Oberlo, are another place for online businesses to find the best products. Among all of our participants, 17% claimed that they use dropshipping apps to find a good product to sell on their online store.
About 6% of store owners told us that they have a consultant who does the product research for them. However, Hiring a consultant requires a budget that not every beginner owns. That's why most people do the research by themselves.
Some of the participants said that they have a group of brands that they pursue. What they do is they contact stores that carry these brands to try and buy languishing stock.
Some others said they sell products that their "ideal customer" would be interested in and they get these products sourced out of the country.
Which one is important to store owners and marketers when selecting a product?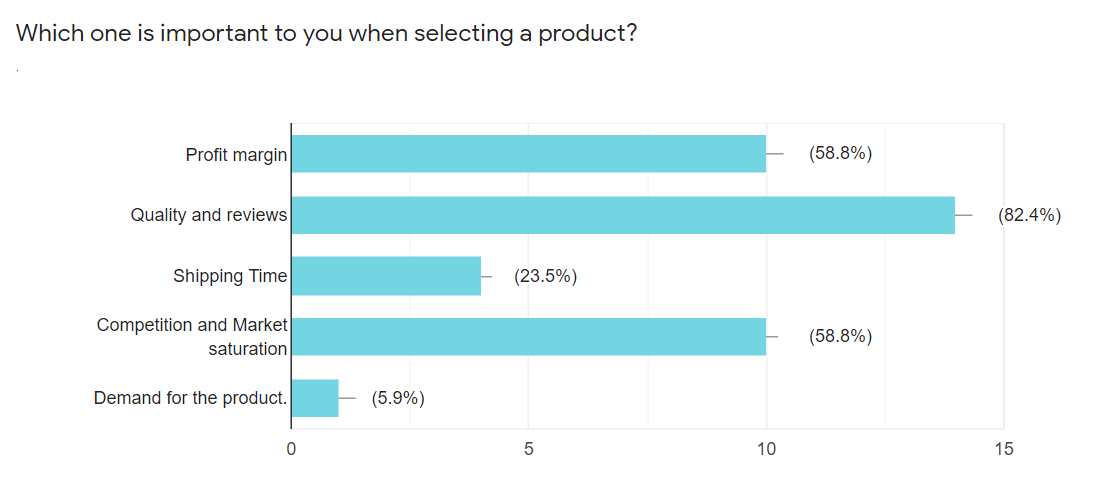 There are many factors that store owners must consider when they choose a product. Otherwise, they will face further problems in their business.
The most important factor is the quality of a product. Nobody wants the customers to return what they purchased. So you need to find a durable product that is not prone to breakage. 
What is the best way to ensure that a product is high-quality? Always trust the reviews and read them carefully. This is what the majority of store owners do as well.
Product quality and reviews matter to 82% of our participants the most. 
An equal percentage of participants said that they consider the profit margin and the market saturation (competition). They were about 59% of the participants. 
A good product should be low-competition and high-demand. However, only 6% said they care about the demand for that particular product.
Those who care about the shipping time make 23% of store owners.
Note: Keep in mind that some of the participants chose more than one option.
Did the store owners and marketers search for another eCommerce to get inspired by them?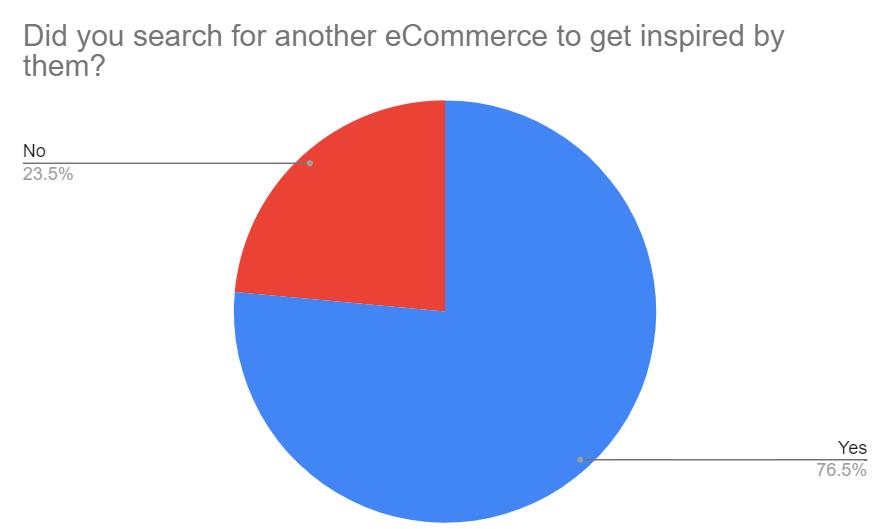 Looking at other eCommerce businesses to get ideas and inspiration always works. You can take a look at big or small successful online stores to see what makes them different.
About 76% of store owners said that they do search for another eCommerce to get inspired by them.
Conclusion:
If you want to have a successful business, careful and constant competitor analysis and a wise choice of product are highly important.
So keep track of other businesses in your niche and try to find products that lead to success.