Dropshipping with Shopify has been hot for a while. Success in dropshipping is a really complex system with different variants such as your marketing strategies, product pricing and more. But this is not something we are not going to discuss here. Here in Shopgram, We're all about data.
if you're looking for Shopify dropshipping stats, you're in the right place. This is where you can find all the statistics you may be curious about regarding Shopify dropshipping.
Here you can see Dropshipping Market Shares, Dropshipping Services market shares, Shopify Dropshipping product statistics and so much more.
In a rush? Here's a quick summary:
The number of Shopify dropshipping stores has increased from 5.16% to 12.82% of all Shopify stores
Oberlo is the leading dropshipping platform with a 31.5% Market share, followed by Printful at 26%.
The most popular category of dropshipped products is Clothing (20.8%)
The United States has the highest percentage of Shopify stores with 62.8% percent of all Shopify stores.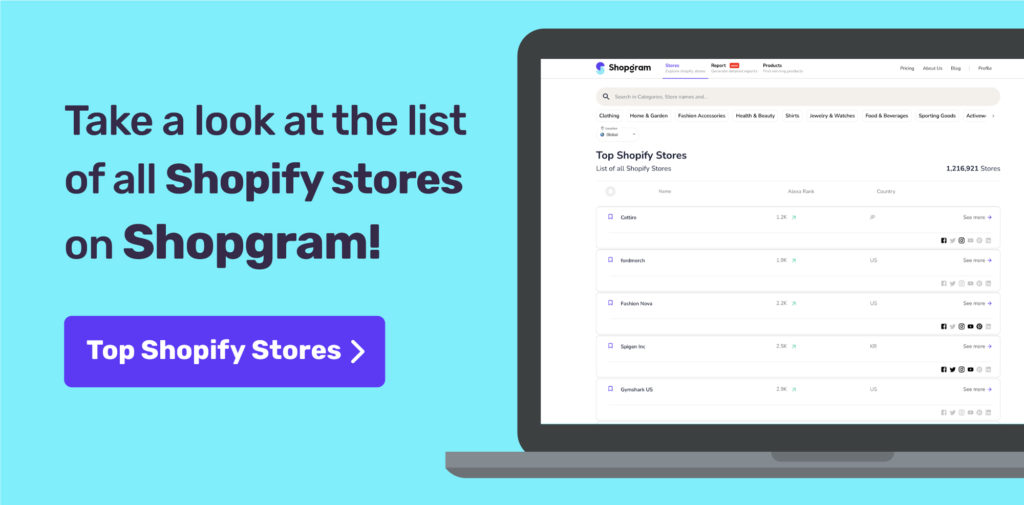 How to Use?
Two types of market share analysis is provided throughout this report which is based on products and shops.
Market share based on products is the relative number of products available in the market through each of the dropshipping services.
Market share based on Shop compares the relative number of shops using each of the services.
Note: For Shops using more than one service at a time, the most frequent dropshipping service is picked as its main service.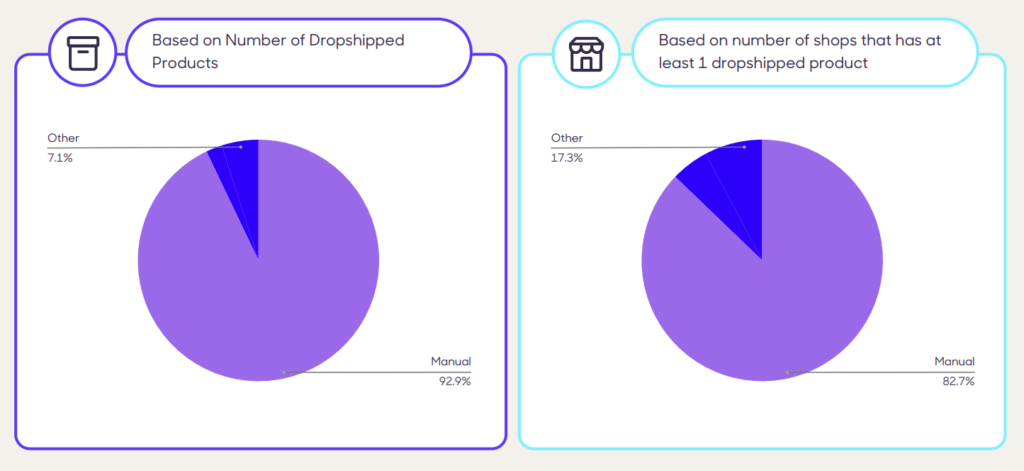 This State of Shopify dropshipping report is broken down into the following chapters, You can click on each to jump:
4 years of dropshipping at a glance
Dropshipping in Shopify – Dropshipping Market Share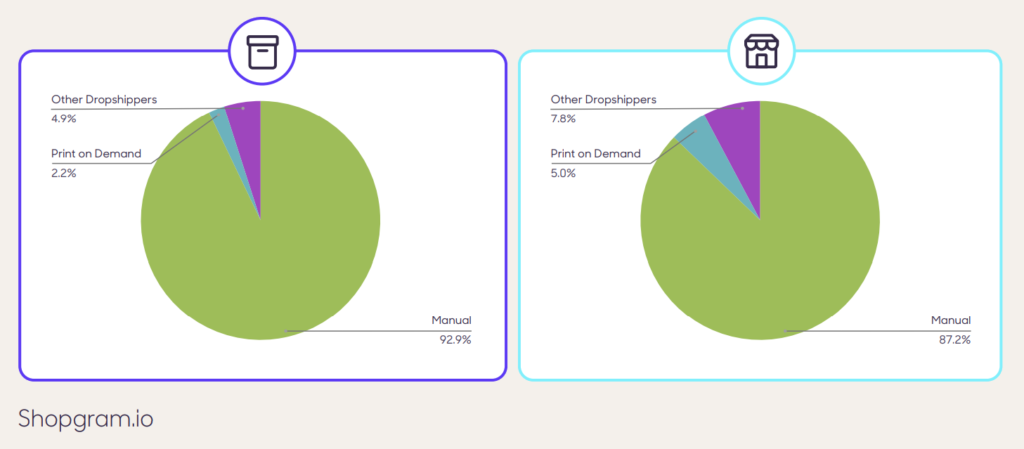 As of April 2021, 12.82% of Shopify stores are using at least one dropshipping product while 7.10% of products in all Shopify stores are supplied from a dropshipping service.
Note that print of demand services like Printful is assumed as a drop shipping service in this report.
As discussed earlier, the left chart shows published product distribution that is dropshipped or not and the right one shows stores using dropshipping products.
Note: A store with at least one drop shipped product is assumed as a drop shipper.
Shopify Dropshipping Market Share – Since 2017
Here you can see the changes among the last four years in dropshipping market share.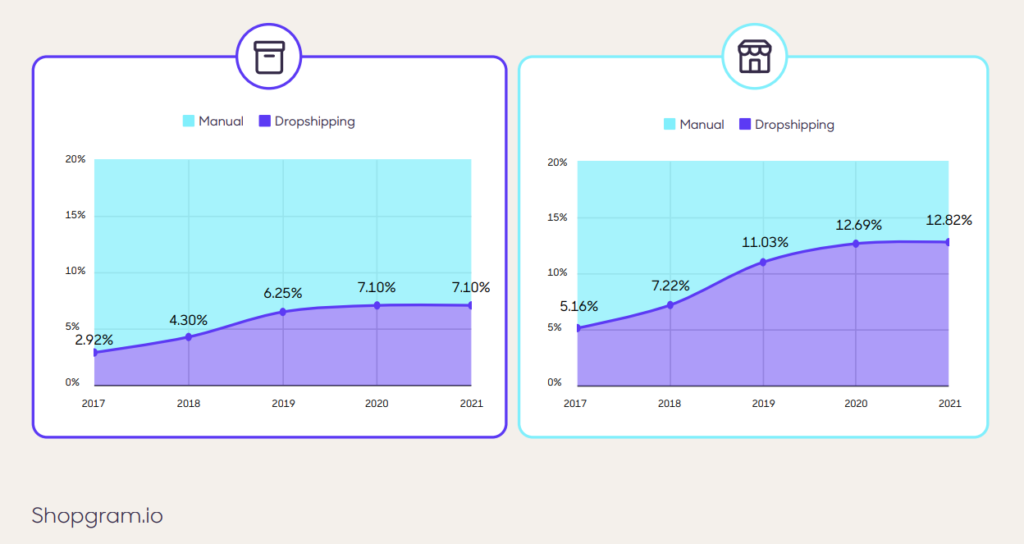 Dropshipping Market Share – Since The Pandemic
See how the dropshipping market share amongst Shopify stores has changed since the Covid-19 Pandemic has started.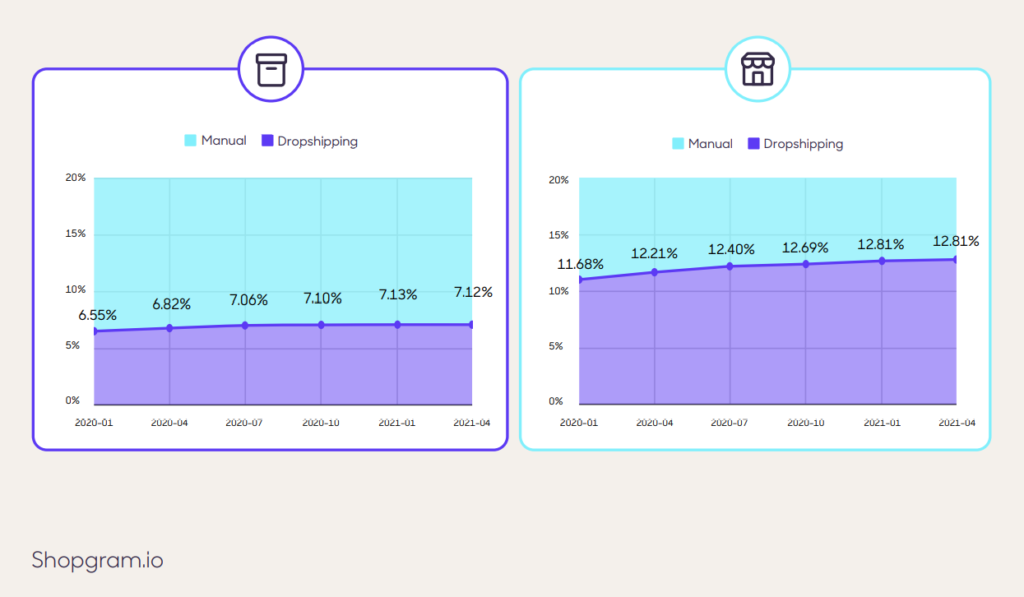 Dropshipping's Market Share In Shopify, Based on Number of Dopshipped Products
In the following chart, we consider a store to be a dropshipper if X of its products are dropshipped, where X has 3 variants that is explained in the picture.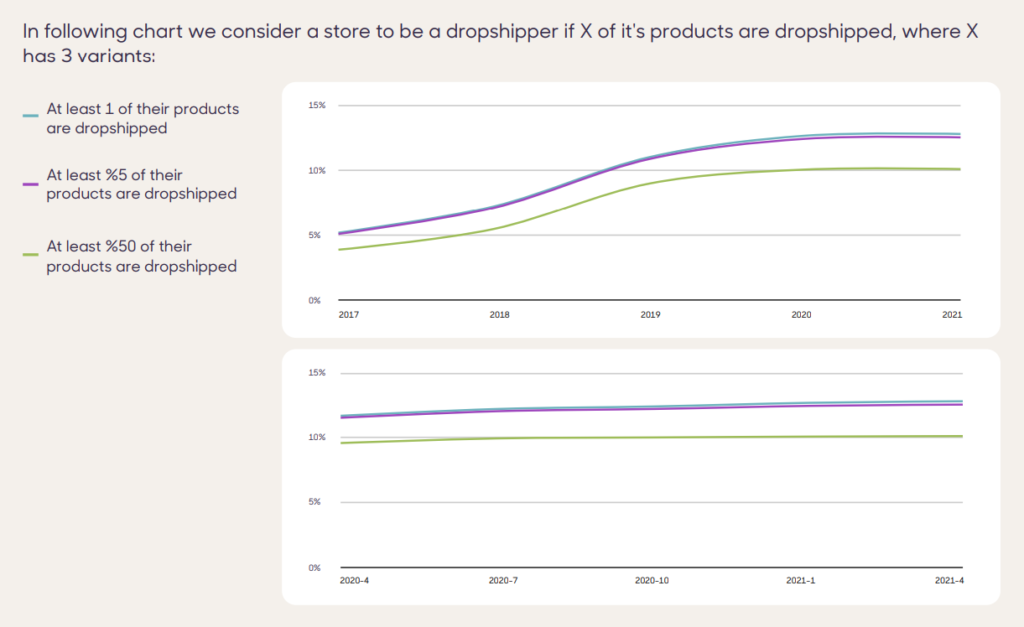 Marketshare Among Dropshipping Services
Here's an interesting chart that lets you know how the battle goes for Oberlo vs Printful vs Printify vs Customcat vs Teelaunch vs Spocket vs Retail Express vs Dsers vs Others.
Oberlo is the leading platform for dropshippers whether they are a dropshipping Shopify store or have a dropshipping product in their product section.
Following Oberlo with a 31.9% market share, Printful is the second one with around 25% of the market share.
Printify, Customcat, Teelaunch, Spocket, Dsers and Spod are chasing closely with 6.3%, 1.9%, 1.8%, 1.5%, 1.4% and 1.2% of the market share.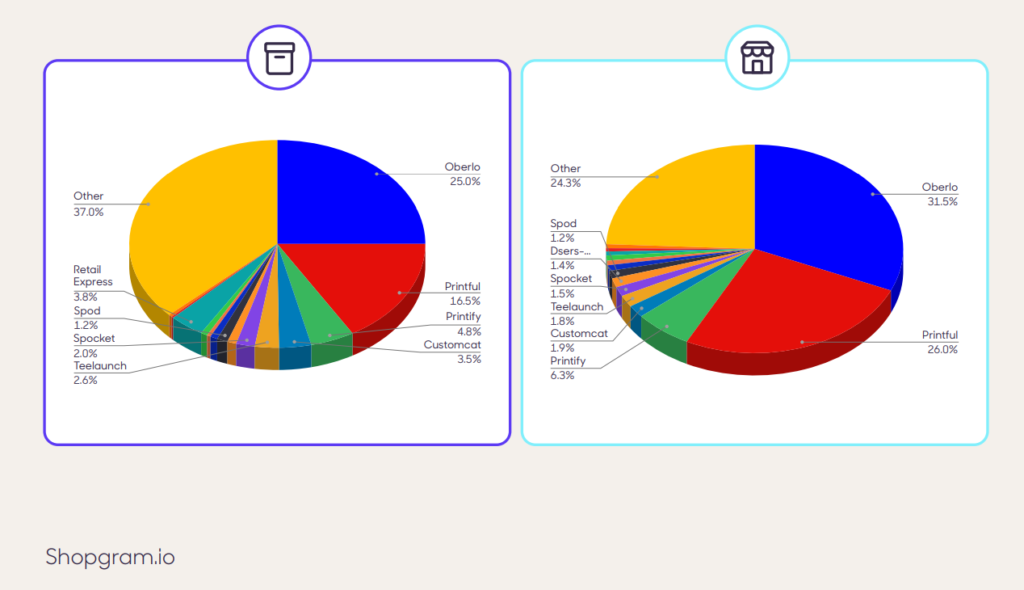 Spocket vs. Oberlo vs. Teelaunch vs. Cjdopshipping vs. Spod vs. Printify vs. Printful
Yes! We have compared all of the main dropshipping channels one by one!
Enter your email below to get full access to the comparisons of them:
Dropshippers Competition
The Intersection Among Dropshippers
There are lots of similarities of stores that are dropshipping in their Shopify stores and are using multiple platforms Printful, Printify, and Spocket share their market.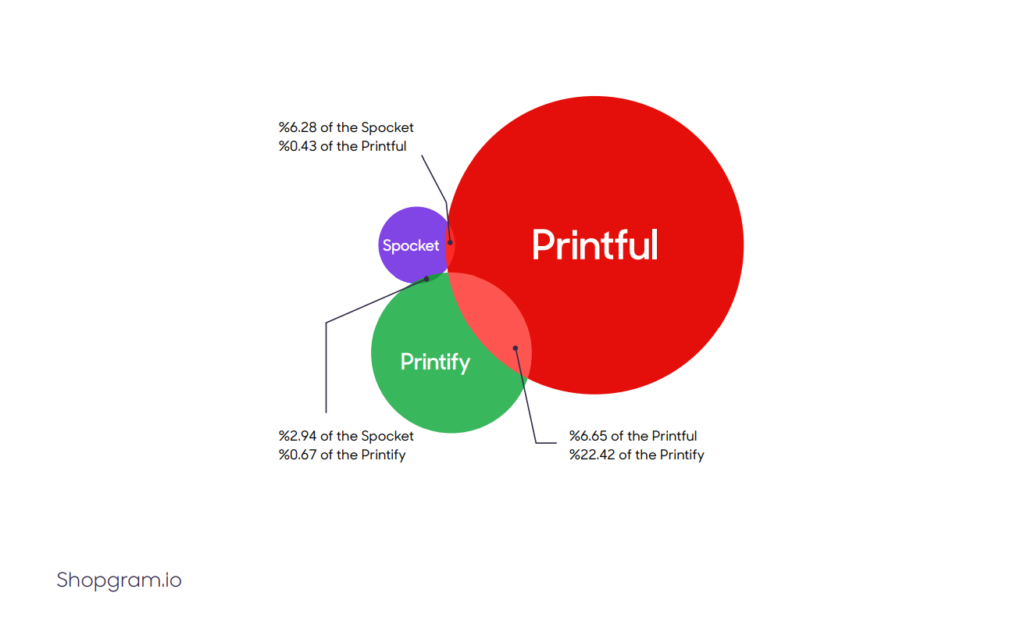 Want more of these intersection reports? Add your email below and it will be right into your inbox!
Dropshipper Reach in Stores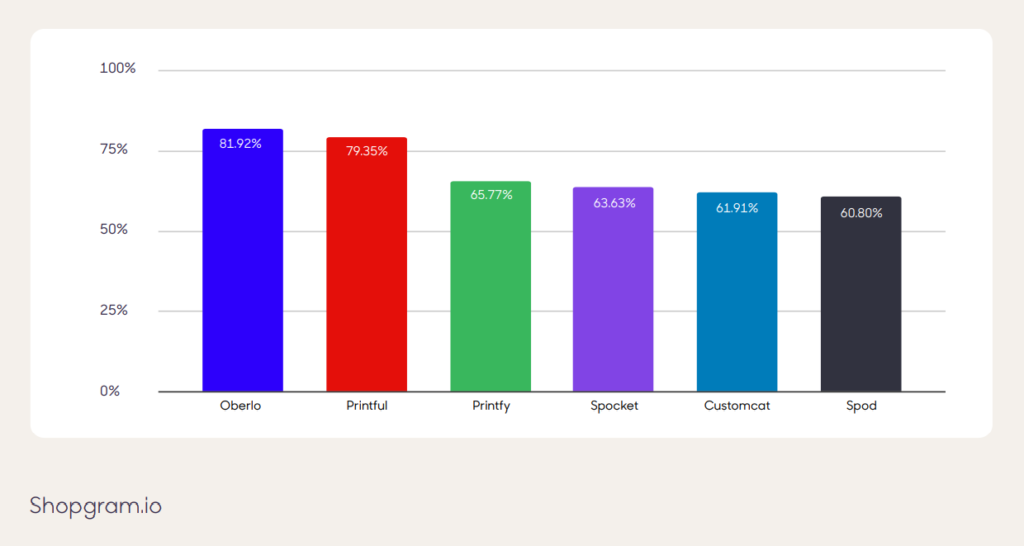 Here you can see the average % of products sourced from each dopshipper. As a sample, it says: Stores using Oberlo, source 81.92% of their products from Oberlo.
Product Type Analysis
Product Types Distribution – Among All Shopify Stores On April 2021
Yes, you may have guessed it, Clothing products are the most popular products being dropshipped right now, Jewelry and Watches, Home and Garden and Fashion accessories are close in terms of the number of products being dropshipped in 2021.
See the full chart here: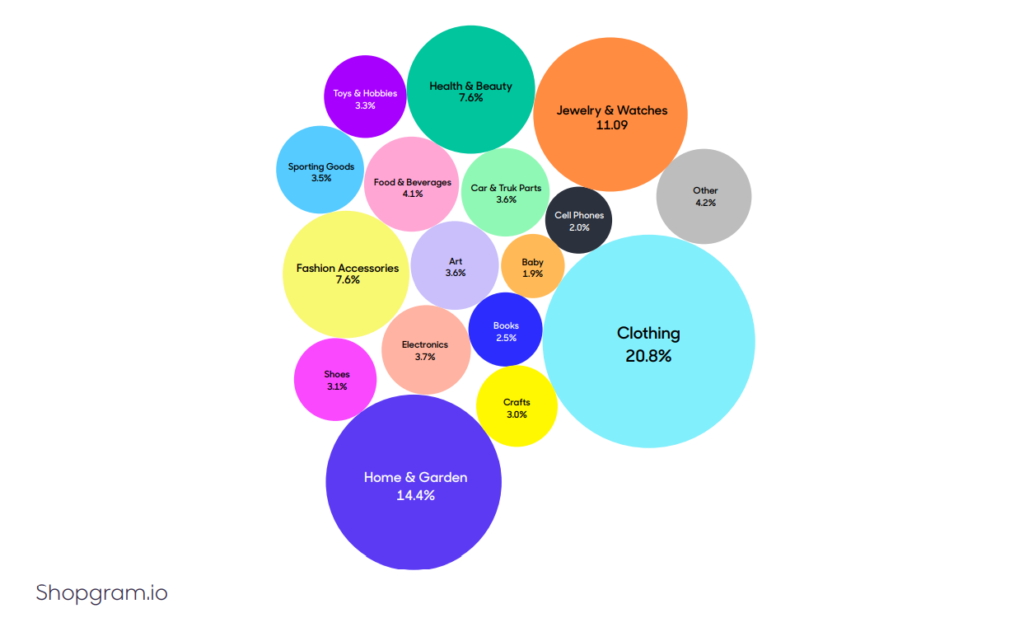 Product Type Comparison – Spocket vs. Oberlo vs. Shopify
Dropshipping platforms have a wide variety of product selections.
In these charts, you can see how each platform is leading in the most popular product section.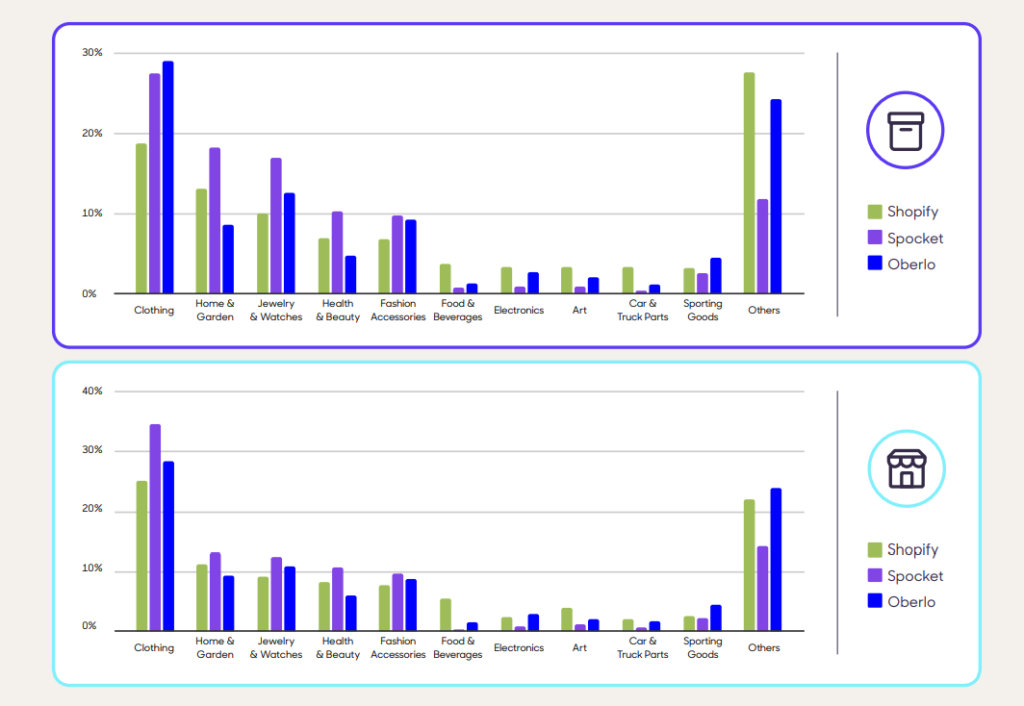 Product Type Distribution – Since 2017
There has been a significant increase in the Clothing products being dropshipped in the Shopify stores since 2017.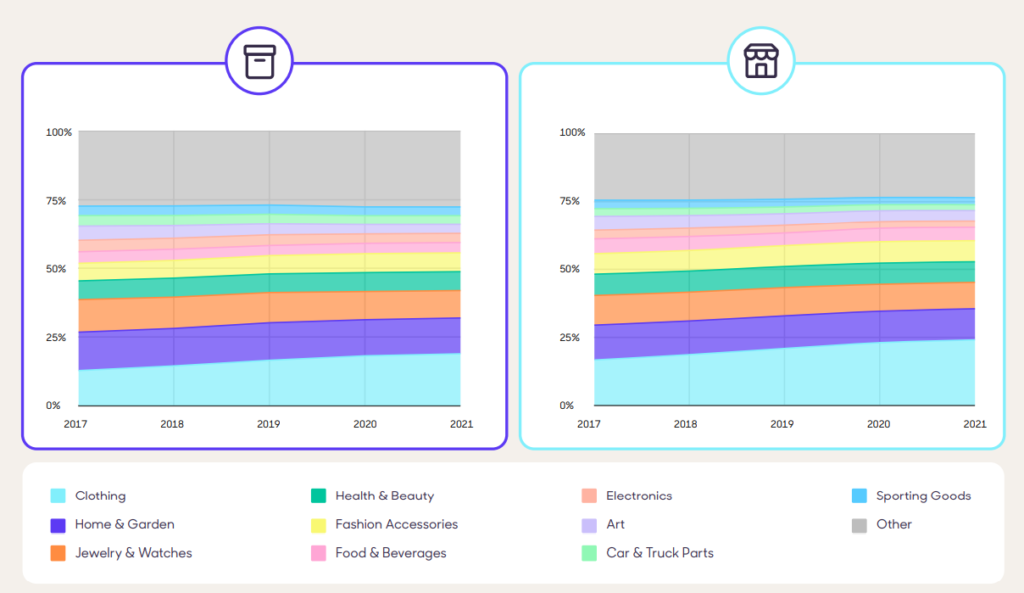 Shop Persona
Shop Alexa Ranks – Shopify vs. Oberlo vs. Spocket
There is no exact way of configuring successful Shopify stores and how much they are selling, one of the ways to see which Shopify dropshipping store has the best position in the market is through Alexa ranks.
Note: We know that Alexa rank is not the best indicator here for their success, but it can give us a quick outlook on how the market looks for each dropshipping platform.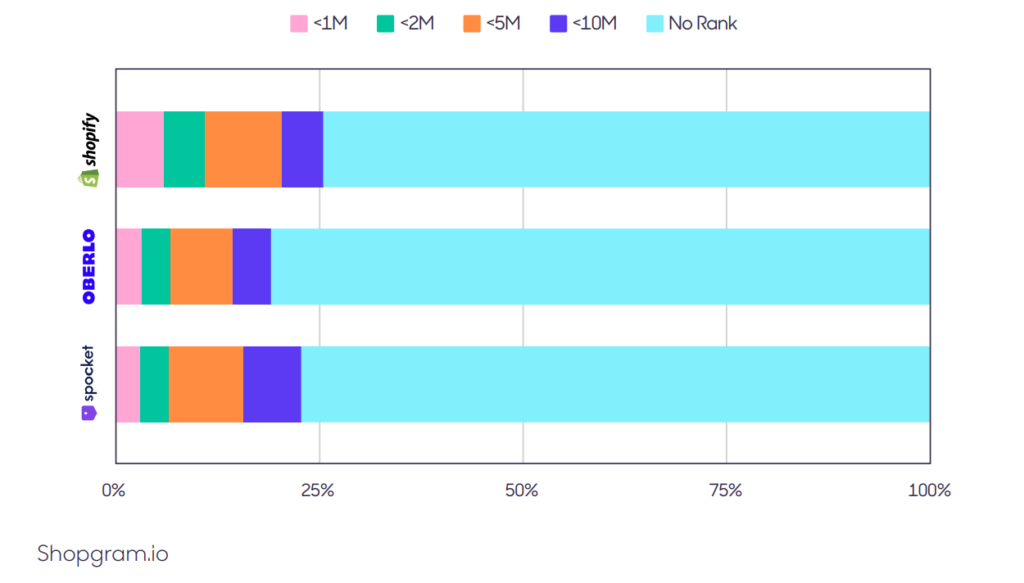 Shop Product Counts – Shopify vs. Oberlo vs. Spocket
How many products are the dropshipping stores selling on their website? We did a quick analysis of it and found most dropshippers have 50-200 products listed on their website. Most dropshipping stores with less than 10 products which consist of many one-product stores is based on Spocket.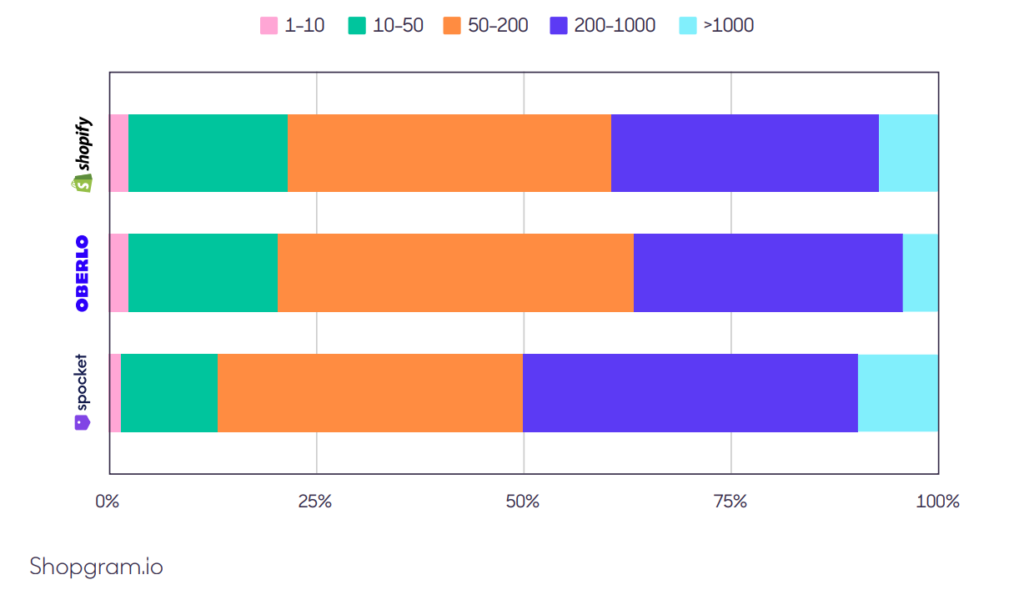 Demographic Analysis Of Dropshipping Services
Geographical Distribution of Shopify Stores
Shopify Dropshipping is most popular in USA with 62.8% of the stores being from there, Canada with 8% and Australia with 7.4% of the market share are second and third most popular Shopify dropshipping locations.
You can see the full chart of Shopify dropshipping locations in the chart below: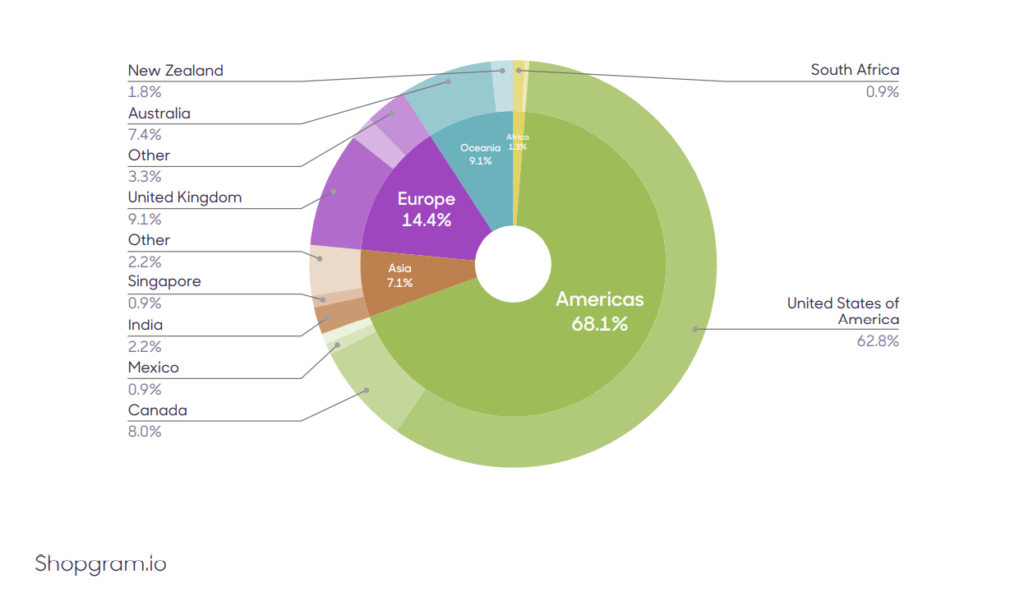 Geographical Distribution of Stores Using Oberlo, Spocket and Others
To get full access to distribution reports, enter your email below to get it:
Dataset Description:
In order to make this Report, the data of 300M products from more than 600K Shops were crawled on Apr 14, 2021, Then a sample of 3.5M products from more than 300K shops was chosen randomly to extract the required statistics.
Notes:
By the term "Dropshipping products" we mean the products which are fulfilled through Shopify's third-party fulfillment service API or from a Shopify application. The products being dropshipped manually by retailers are not included as dropshipping products.
For Historical analysis, we use the published data of the products Since we have no access to the products deleted before the time of the crawl, in order to make historical analysis among the dropshipper services we assume that the removing rate of the products is approximately equal among all the dropshipping services and the non-dropshipping products.
The 3.5M sample products were categorized using a pre-trained Neural Network model for product classification