The US is by far the most developed market for online shopping in the world, so it is the global standard for e-commerce. The country's largest e-commerce companies are top players in other countries, setting trends and setting the pace for Internet shopping across the globe.
Due to its large population, affluent lifestyle, and habit of shopping online, the United States leads the world in the internet and e-commerce market. In the United States, online consumers use a variety of electronic devices, including computers and mobile phones, to access digital services in order to purchase a variety of goods and services.
There is no surprise that the competition between e-commerce players in the American market is fierce as the market is so developed and solvable. Market dominance is largely carried out by large platforms that operate across diverse segments, like Amazon and eBay.
Now, the question is how to find these top eCommerce companies and some valuable data about them?
Why do you need a dataset of eCommerce companies?
Imagine you can have the roadmap of all those big companies that inspired you to start your business. That is what a reliable dataset can do for you.
The value of data can be seen throughout your business, allowing you to:
Make important decisions in a way that affect your business positively
Identify and fix the problems through data analysis and solve them
Know your audience and learn about their age, gender, or location
Improve your website's user experience by getting inspiration from successful websites
Use the strategies that top eCommerce companies are using and avoid wasting valuable time or resources on ineffective strategies
Predict your future sales using the data of the websites in your niche.
How to find the best eCommerce companies
So to find the best eCommerce companies you need to know the best ways that others do it. Here is this article you're going to learn how to find the best eCommerce businesses in the US as an example.
How to find eCommerce companies in the us
1- Manual Crawl
Manual searching may be a simple method, however, it is very helpful if the number of stores you're looking for is not too big to be searched manually. Because in that case, it will take you forever to find the results you want. Use the other methods that we will talk about further in the article.
Now, how does the manual crawl work? Well, let's say you are looking for Shopify stores that sell glasses in the US. Here is what you should search for: https://myshopify. com + glasses + US
If you want to check the pet shops in the US simply change the keyword to pet shops.
2- Data Companies like Shopgram
The second method is referring to the data that other companies crawled for you. This contains no manual crawling. You simply go to one of the data websites out there like Builtwith or Shopgram and generate a report of any number of stores located in the country you have in mind- in our case the US.
Using Shopgram you can simply find the best Shopify stores based on location, category, and Alexa Rank. In this case, we chose the United States from the location list and got the list of 583,752 Shopify stores in the US.
3- Data Marketplaces
Data marketplaces are online platforms where users can sell and buy data. Data marketplaces facilitate the process of marketing, managing, and selling data. In turn, data marketplaces let data buyers browse, compare, and purchase data from multiple sources collected in one easy-to-navigate place.
For example, Alibaba is a marketplace for wholesale goods, but it doesn't have any food or retail goods in its inventory. These kinds of markets are called "two-sided markets": The commodities that are traded on these markets do not belong to them. Rather, they connect two sides: buyers and sellers, customers and vendors, demand and supply. 
Data market places like Datarade are also two-sided markets that connect data providers and data buyers. 
So no matter what kind of data you are looking for, you can go to one of these websites and find a good source for it.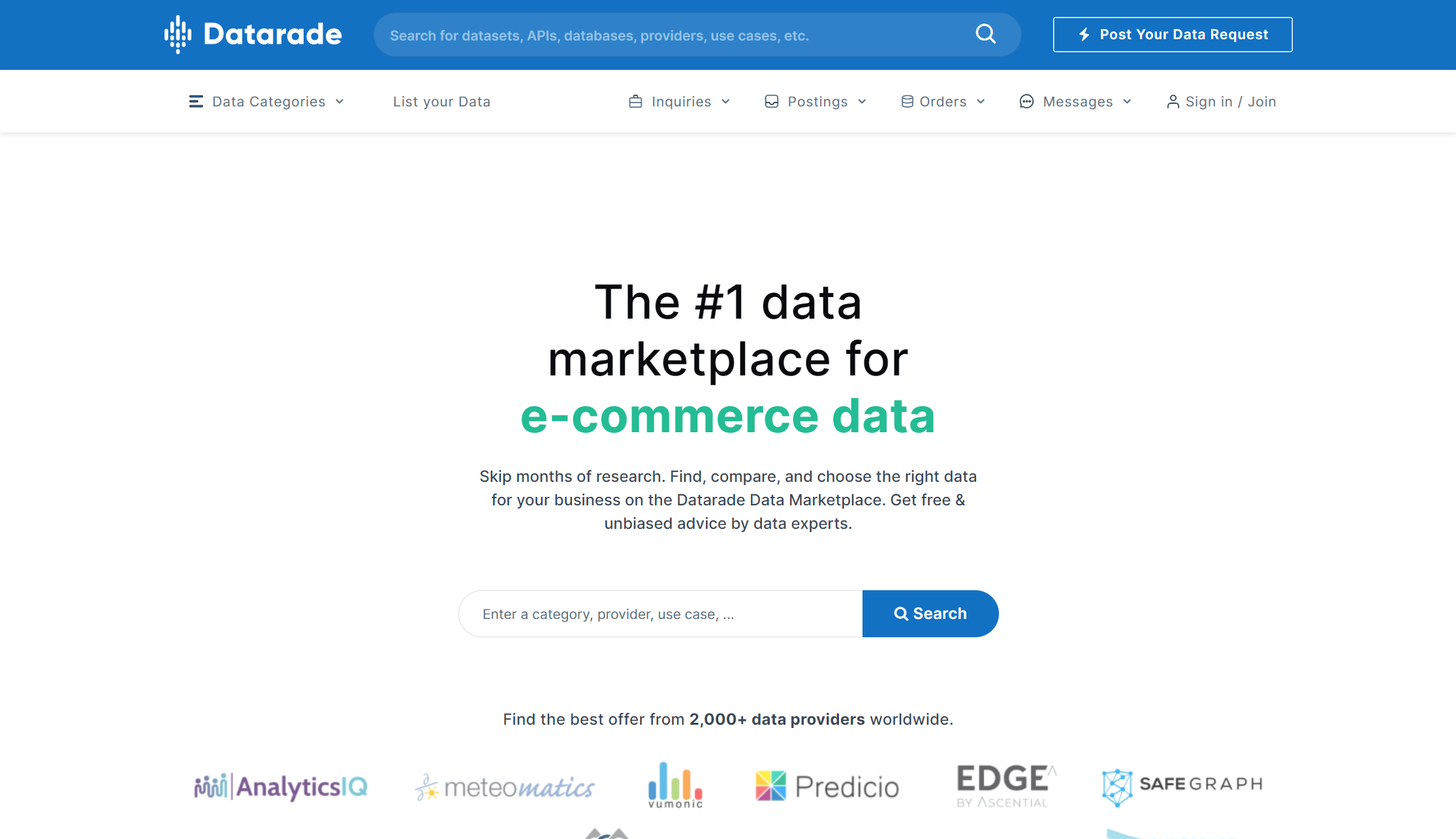 Who can use this data?
Marketing agencies:

To remain competitive, companies need to address consumers as unique individuals who have highly specific preferences. Data-driven marketing is at the heart of businesses' success. Businesses can optimize their engagement rates while providing a great experience to their leads and customers when they gather rich, relevant data on store and consumer behavior and demographics.
ECommerce service providers:

Businesses can sell their services and products online through commerce services providers (CSPs). CSPs provide Web platforms that allow their customers to sell products and services online. Shopify is an eCommerce service provider example that you may be familiar with. No online business can keep on going without up-to-date data and such companies are not exceptions.
Investment groups:

Imagine you want to invest your money in an eCommerce business, would you do it without previous researches? Investment groups need to find reliable sources for any companies data that they want to invest in and the reason is crystal clear. Data will help you grow money!
Conclusion
Using this information, you'll be able to find out where your business stands in comparison to the competition and create a library of what your customers experience when visiting other sites. You'll need the data to put your business on the map and stand out from the crowd.