Would you like to increase the number of customers who view your website? Then you have to try to get noticed.
Do you know how to get noticed? Your name must pop up in all the places people turn to for solutions, or in other words, your business must be listed on the online directories.
The world is increasingly dependent on the internet, making it necessary for your business to be active online.
In addition to increasing visibility for businesses, online directories will also boost your SEO rankings and improve your backlink profile.
Now the question is what these directories are exactly?
What are eCommerce directories?
Directories are sites that people refer to, to find other sites they are looking for including online stores. Using an online directory, for example, you can locate a dentist or physician near you. You can also find a retail outlet near you where you can collect items you've ordered online.
Ecommerce directories are not different. They are directories specified to list eCommerce businesses.
In general, online directories also referred to as "citations" or citation sites are free, or free to begin with, with a paid option unlocking more features for your listing.
The information listed includes a company's name, phone number, address, hours of operation, website, social media accounts, a short description of what the company does, photos, and a listing of products and services that they offer.
Many people do not understand why they need to list their eCommerce business on online directories when their customers use google for such information.
But you need to note that Google gets information from online directories to give your customers the search result they want. So if you manage to be listed in several directories, the chance for you to be shown in the search results will increase noticeably.
So keep reading this article to learn more about different eCommerce directories that can work for you and your business.
Directory of Shopify stores
If you are looking for a place that is specified for Shopify stores so you can feature your store there, Shopgram is much recommended.
Shopgram is a directory for Shopify stores and products. For now, 1,216,882 stores and their info are available on the website. And you can be the next.
Simply email Shopgram's support and let them know that you want your store to be added to their list (In case you already are not on the list) and they will add you as soon as possible.
For Shopify store owners
What are the benefits of featuring your store on a Shopify stores directory like Shopgram?
When people are looking for your website, or maybe a website like yours, you will pop up on the search results. So your chance to get noticed will increase.
They can see your store's name, description, social media, category, or products all at once.
For Agencies
Now if you are a Shopify agency that is trying to find a place to be noticed there, clutch.co is a good place.
Clutch provides ratings and reviews of leading IT, marketing, and business services companies. It is your data-driven buyer's guide for B2B purchases and hiring.
The reviews are detailed and clutch.co provides phone call interview services, which makes it easier for customers to decide. You can get good volumes of traffic from clutch.co.
Directory of WooCommerce Stores
There are a few directories sites where you can find online stores using Woocommerce. If you are one of those stores, then take a look at Cartinsight.
CartInsight is a database of online stores used by sales and marketing teams to gain a comprehensive understanding of the market and to develop high-quality outreach campaigns. In order to offer you the best eCommerce leads engine, CartInsight combines big data mining, natural language processing, and contextual human curation.
Directory of Wix Stores
If you created your online business using Wix and you are looking for a directory of Wix stores, StoreLeads can be the right place for you.
StoreLeads is not especially for Wix stores, which means you can be on their lists whether you have a Shopify store or Woocommerce store as well.
StoreLeads is trusted by many in the eCommerce industry for gathering data and analytics. You don't want to miss that audience for sure.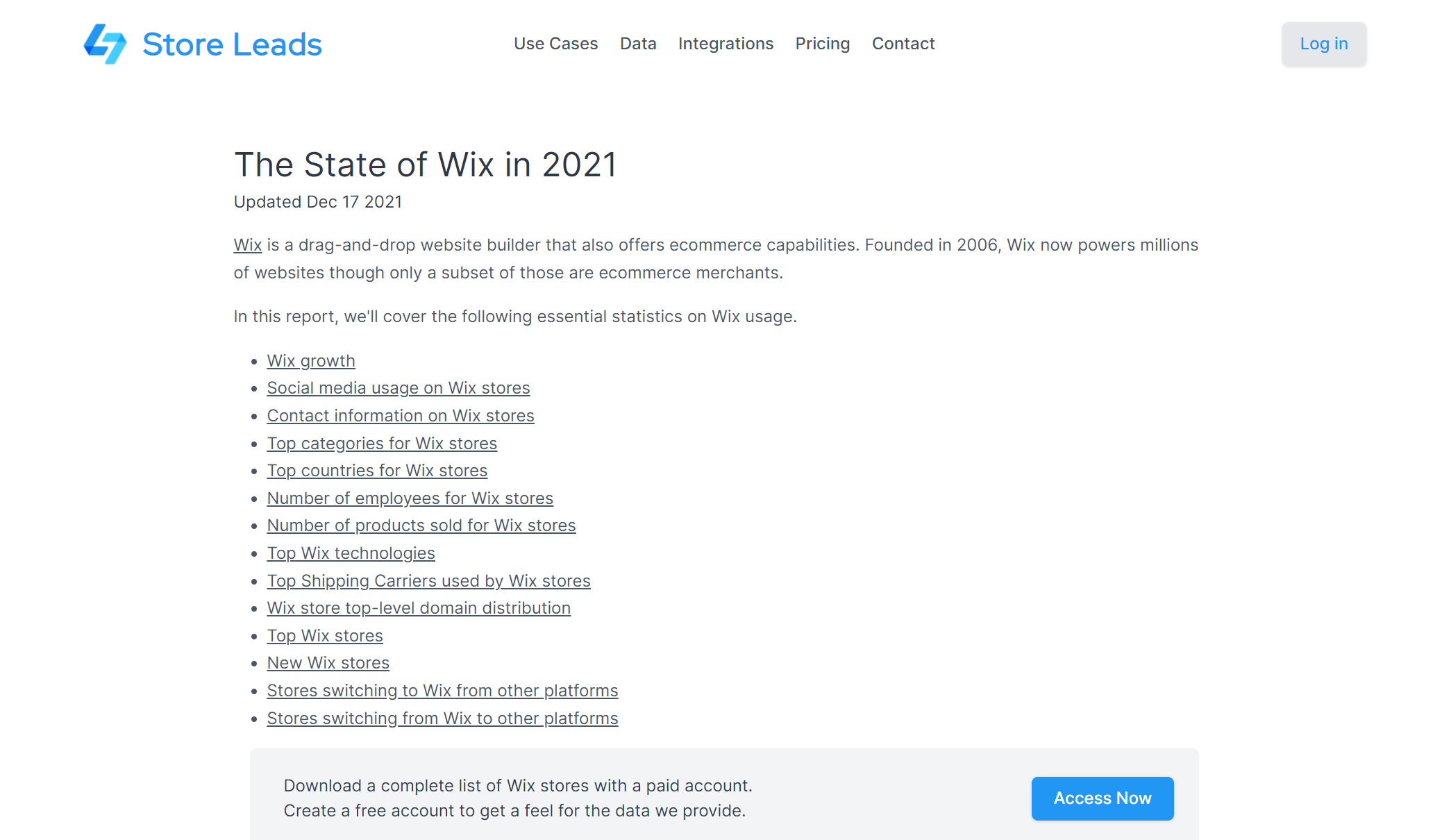 Other eCommerce directories
Using Hunter TechLookup you can find the domains accessing certain software. Additionally, it allows you to convert your domain list into leads by seeing what your competitors are doing and who their clients are.
Wappalyzer is a technology profiler and lead-data provider. Sales and marketing teams can use these tools for lead generation, market analysis, and competitor research.
The company offers a comprehensive pricing platform using an algorithm-based engine for long-term growth and a market-driven engine to ensure short-term growth and to recover profits.
Using W3Techs, you can retrieve information about the types of technologies used across the internet.
Netcraft is an old name that has churned out excellent quality security tools including the 'what's the site running?' website profiler. It uses data mining to find the security protocols and backend infrastructure of a website. Several powerful features are included in the tool, such as detailed security reporting, IP geolocation, and more. The IP geolocation of the server also lets you track the owner of the Netblock and the website's hosting information.
Perks of getting your business listed on directories
SEO
With search engine optimization, you can ensure that your website appears high in search engine results for your targeted keywords. Business directories also optimize their site for these keywords. Due to their high domain authority, online business directories often appear higher in search results for similar keywords. When your business has a listing profile on these reputable sites, it will appear more frequently than perhaps your website.
Brand recognition
Your brand's visibility will undoubtedly increase if you create or update your business profile on a directory site. Be sure to include as much information as possible. By adding your company information to more sites, you increase the chance customers will see your name and recognize your brand and what you offer.
Awareness
Business directories may allow customers to write reviews about their experiences with your product or service. Although many business owners dread customer reviews, they can be an important tool for enhancing your reputation and increasing awareness. The right way to handle a negative review can turn it into a more positive learning experience. The majority of your reviews will be positive if you communicate effectively with your customers.
Conclusion
For your business to become noticeable, it must appear at places where people look for solutions, or in other words, it must be listed in online directories.
In addition to increasing visibility for businesses, online directories will also boost your SEO rankings and improve your backlink profile.
An online directory allows users to quickly find businesses or services related to a particular industry. 8 of every 10 people look up a directory every time they are looking for a business or service. In addition, your website can be promoted through online business directories, similar to your other marketing strategies. Do not underestimate them!