Dropshipping is one of the best ways to start an online business. Whether you are just about to begin your journey in the world of eCommerce or you are already on your way, finding the right products to sell in your store can be a challenge. 
There are many different factors that you need to consider when choosing products to sell. And this process can be very time-consuming for you or anybody who does it for you.
But there is nothing to be worried about since enough dropshipping spy tools are out there to come to your aid and make eCommerce easier for you.
In this article, we will introduce the best ones.
Why do you need to spy on your competitors?
In reality, spying on competitors is not nearly as bad as it might sound – it's simply a way to monitor their content, keywords, digital marketing strategies, the products they sell, etc. It's a way to figure out why they're better than you in some areas, what they're doing well, or even what you're doing better than your competitors so you can keep doing it.
When it comes to developing an eCommerce business, competitive analysis is crucial.
Furthermore, it provides an excellent opportunity to benchmark your marketing efforts so you can understand what works and what does not.
Do not feel bad for what you do since it is most probable that your competitors are doing the same. If you're ranking higher up in search engines, they'll want to know what they can do to change that. If your products are selling like crazy and your marketing strategies are working, or your website engagement is high, your competitors will try to figure out your success key and use it in their favor.
Observing your competitors isn't a way to steal their secrets; it is rather a way to gain insights into their strategy and your own audience.
How to spy on your competitors?
Traffic generation and maintaining a high ranking for your website are both difficult tasks. The process of creating a successful website involves a lot of work, so many different tactics, and on top of that, you have to compete with countless other sites for the same audience's attention and time.
When it comes to driving your own traffic, understanding what your competitors are doing can be extremely helpful.
Are they getting a lot of traffic?

What is the source of their traffic?

What are the keywords they are ranking for?

What websites link to theirs?
To spy on your competitors' traffic and SEO, you can:
Find new traffic sources by comparing your website stats and traffic sources with those of your competitors

You can rank for low-competition keywords by researching what your competitors are ranking for

Check any website's traffic stats, including bounce rates, time spent on site, unique visitors, and how they get traffic (including the percentage coming from search engines).

Check if their audience overlaps with another competitor's website (or your own website) to find new competitors
How to find your dropshipping competitors?
These steps can help you find your dropshipping competitors:
Using Google, search for your competitors using "dropshipping" plus your niche. In the search results, you can easily spot them if they run Google ads; otherwise, you might have to scroll down the page and take a look at the next pages.

A directory site such as Wholesale Central and SaleHoo is an excellent resource for finding dropshipping suppliers, wholesalers, and companies.

To identify strong competitors, simply make use of the search box and best sellers list on eCommerce platforms like AliExpress.

To find people selling the same things on social media, use hashtags and keywords to search for related topics. Once you show interest in some ads, more related ads will be shown to you.

Use dropshipping niche communities, Facebook/Reddit groups, forums, and so on.

To establish business relationships with wholesalers and manufacturers, attend a trade show in your industry.
The methods listed above are all excellent methods for finding dropshipping competitors in your niche.
Best tools for spying dropshippers
Shopgram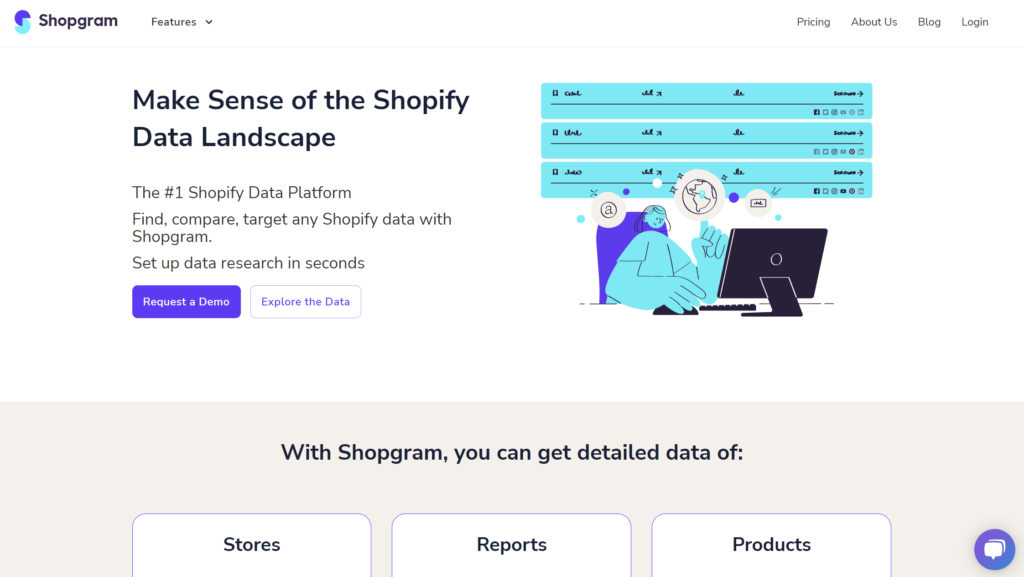 Shopgram is an all-in-one Shopify data tool that can help Shopify store owners, new or experienced, to find and analyze their competitors.
The owner of a Shopify Store needs to identify their competitors and products they can sell, the owner of a Dropshipping Store wants to know more about their products, and Advertisers and Brands need to determine their target audience and where to allocate their resources. A user's real spending pattern (and where they spend their time) is crucial for investors to know which Shopify businesses and genres are growing fastest.
Shopgram gives you the data you need to make informed decisions in business.
Ecomhunt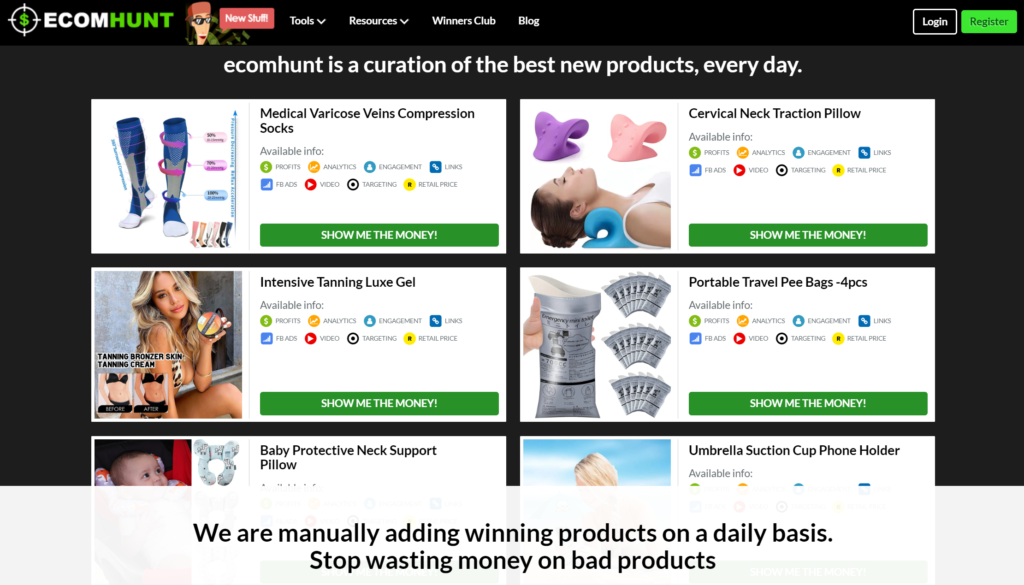 In reality, Ecomhunt adds winning products manually daily, so you don't waste time or money on the wrong products, as the company describes itself on its website. The way Ecomhunt works is that it analyzes what products are working well, and gives them to its members first, and then to its free members after a few days. As a result, they provide an advantage to their paying members over their free members.
Pexda
Just like Ecomhunt, Pexda adds a few hand-picked dropshipping products each day.
Using Pexda you can: 
Find new winners with only a few clicks. Don't waste money on wrong products.

See the Facebook ads that are working for others.

Discover Hot Products Before They Go Viral.

Uncover the market segments that convert best for every product.
AliExpress Dropshipping Center
Among online retail stores, AliExpress is a common platform that suppliers use to sell their products. This China-based website provides cheaper rates and is a reliable and safe way to make purchases. Dropshipping businesses can also benefit from it.
AliExpress has created a 2-in-1 tool called AliExpress Dropshipping Center, designed to simplify dropshipping.
Wish Inspector
Those who want something completely different for their dropshipping stores will find the final product research tool useful. In order to help dropshippers and online business owners find winning products, Dave Guidon developed Wish Inspector which is a desktop-based program for PC and Mac.
conclusion
When it comes to finding winning dropshipping products, using a dropshipping spy tool is essential.
The spy tool allows you to easily find dropshipping products that are already making other online merchants money.
We have listed some of the best dropshipping spy tools in this article so you can use them to grow your business with less effort. Make the most of it!