Starting an online Shopify store is not easy. What are you supposed to sell? How are you going to source the product? What should your brand look like? The list of questions goes on and on and there is one easy and practical way to find the answers: take a look at other Shopify stores that are successful in the business. 
By looking deep at the top Shopify stores in your region, you can take note of their success keys and get inspiration for your future Shopify store-to-be.
Now for mentioned inspirational purposes and to make your job easier, we have collected a list of the top 100 best Shopify stores in Europe in 2022.
To meet your biggest Shopify competitors, keep reading this article.
How many Shopify stores are there in Europe?
To this day there are nearly 1.5 million Shopify e-commerce websites live. Though the company is based in Canada, only 34,454 of its e-commerce websites are live there. 
According to Ecommerce News, more and more online retailers in Europe have started using the e-commerce platform Shopify in the past few years. Celebrating its 16th anniversary this year, the software provider is already extremely popular. American consumers are currently the biggest fans of this Canadian company. The US is home to 73.24% of all Shopify live websites. Let's take a closer look at the company's position in Europe today.
With 51,394 shops, Europe accounted for roughly 17 percent of Shopify's supply market. As we look at Shopify in Europe, we see that there are a few key players. With almost 60.000 websites and 3,9% of Shopify's global coverage, the United Kingdom is the second most popular country after the United States. Following the UK are Germany with 23,111, France with 18,806, and the Netherlands with 12,331.
Best Shopify stores in Europe in 2022
1. Botiga UB – Official Shop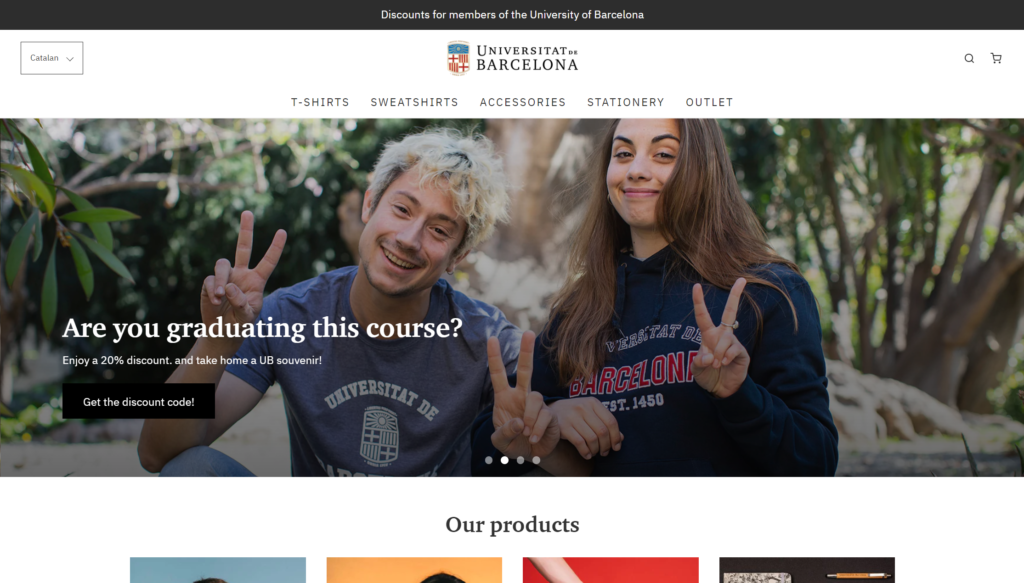 The first European Shopify store on our list is the official merchandising website of the University of Barcelona. This Spanish Shopify store offers a wide range of textile products and accessories with exclusive and personalized designs with the UB brand.
With more than five hundred and seventy years of history, the University of Barcelona is the leading university in Catalonia and Spain and holds one of the top spots in the most demanding world rankings. Also, it is one of the most important research centers in Europe and the main university research center in Spain.
This merchandising project is being launched by the University of Barcelona with the aim of strengthening the University's link with the university community as well as spreading the UB brand internationally.
2. Father Sons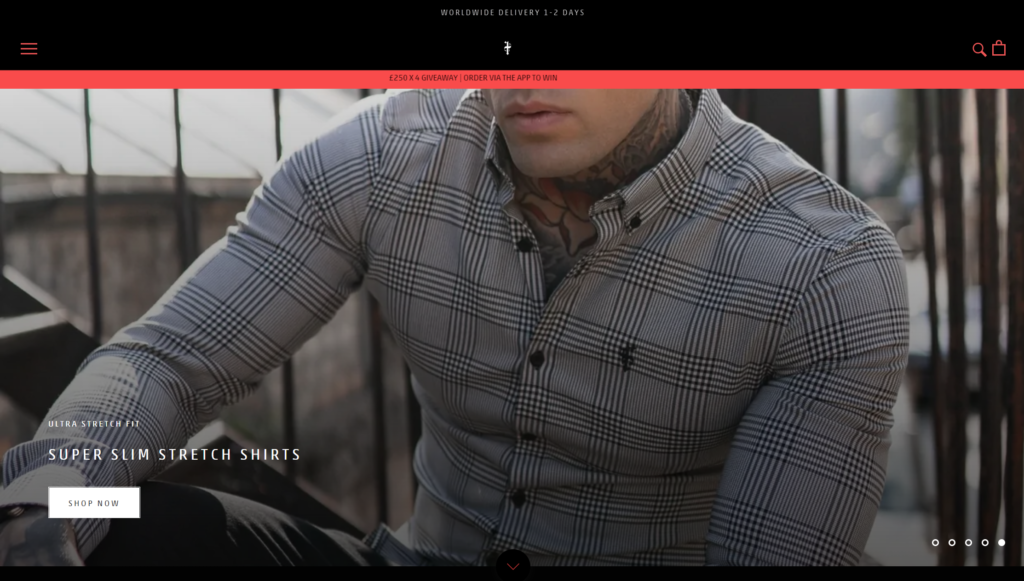 Designed by father, run by the sons, Father & Sons is a London-based fashion brand supplying formal designer wear specializing in Men's shirts. In contrast to many other brands, they manufacture small quantities of each style to maintain the individuality of the brand. Men's clothing is not the only thing offered on the website; women's, boys', and girls' clothing is also available.
3. G2 Esports
As one of the leading entertainment assets in esports, G2 Esports is home to many of the world's most talented players and gaming personalities. 
Co-founded by League of Legends legend 'Ocelote' Rodriguez and veteran esports entrepreneur and investor Jens Hilgers, the club has become one of the most successful in the world of esports.
With decades of experience in esports, G2's multinational staff ensures the company is at the top of its game in every aspect of business, including eCommerce! 
4. PokeRand
Shop all things Pokemon! This is how PokeRand creatures introduce their Shopify store. From the newest Trading Card booster boxes to vintage single cards to PSA Graded Cards and everything in-between, this top European Shopify store is heaven for pokemon obsessed people.
5. Scandiborn
When the owners were expecting their first child in 2015, they lived in the beautiful Peak District.
As they prepared for the new arrival, they began looking for beautiful Scandinavian-inspired nursery decor and baby accessories. But it was a struggle to source the products they dreamed of for their family.
As a result, a little idea was born along with their son Harry – the inspiration behind their brand: Scandiborn.
They provide everything you need to make parenthood a wonderful journey, including pregnancy essentials, beautiful baby wares, wooden toys, and stunning home interiors.
6. Route One
With over 30 years of experience kitting out skaters, Route One brings skate culture and street fashion together. Their dedication to perfect setups, support, and style is for everyone, from seasoned pros to park rookies.
7. The Couture Club
With the aim of creating the world's greatest club, Ross Worswick and Scott Shashua founded The Couture Club in 2015.
This lifestyle merchandise brand offers clothing for both men and women. Their streetwear style covers multi-product types from Hoodies to Cargo Pants and from Dresses to Outerwear, with SS staple co-ord sets & swimwear. They create every product with designer quality and affordable prices and they are so proud of what they did!
8. WowitLoveitHaveit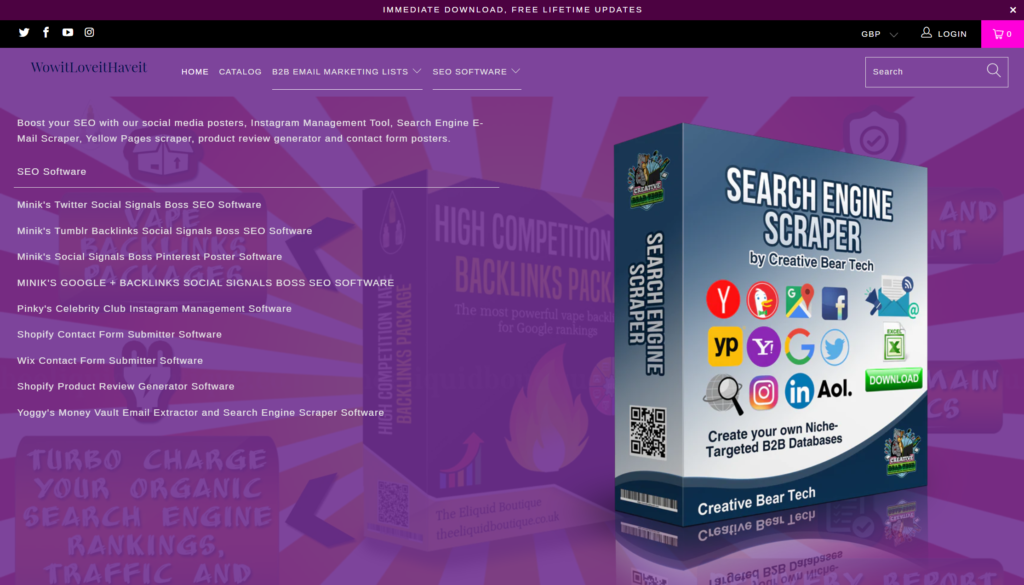 WowitLoveitHaveit is an innovative B2B lead generation company with a state-of-the-art IT infrastructure, 5 international offices, and a cutting-edge business model.
Here is what they do:
They generate B2B email lists for practically every business niche in the world. Essentially, they are engaged in BUSINESS MATCHMAKING! They will match you to your potential clients.
They mostly specialize in producing email lists for e-mail marketing and newsletters as this is the most effective and cheapest B2B marketing channel.
9. URBAN EXCESS
URBAN EXCESS is a Shop Globally sourced menswear, footwear, and accessories from a diverse range of leading brands, including Barbour, Carhartt-WIP, Dickies, Gramicci, Patagonia, Fred Perry Reissues, Norse Projects, Sandqvist, Stan Ray, The North Face, and footwear from Grenson, Karhu, Red Wing & Veja.
10. ALEYOLE JEWELRY
Aleyole jewelry is a go-to online store for modern women. They sell the kind of Jewelry that comes alive when you put it on. They offer unique designs for every taste and this is what makes them stand out in Europe!
Now to see the full list of the top 100 best Shopify stores in Europe you can click here.